Pullman Strike
Next

Pullman Strike
Tuesday, 11 May 2021
The Pullman Strike took place in 1894 and lasted from May 11 until July 20. It was a railroad strike across the country that caused severe disruption in rail traffic. It was because of this strike that President Grover Cleveland created Labor Day, in order to appease the American Labor movement.
History
Because of an economic depression in 1893, demand for passenger cars plunged and car manufacturer Pullman Palace Car Company lowered its workers' wages. However, the company, who also owned the housing where many of its workers lived, refused to also lower the rents or other living costs. Discontent, workers decided to strike.
As a response, workers at the Pullman factories joined the American Railway Union, one of the first industrial unions in America. The ARU supported the strike by refusing to run any trains that were transporting Pullman cars. The railway responded by hiring workers to replace the strikers, which caused violence on both sides, and sympathy strikers began walking off their jobs across the country and stopping products from being transported by obstructing the train tracks.
After violence escalated, President Grover Cleveland decided it was time for the federal government to intervene, and Attorney General Richard Olney served the union leaders with an injunction that forbade them from supporting the strikes. The ARU disregarded the federal court's orders and the government sent the federal troops to deal with the strikers. Thousands of federal law enforcement officers and military shut down the strikes across the country. However, in the efforts to get the trains running again, the deaths of 30 strikers escalated the violence between the two parties even more.
Aftermath
The leader of the American Railway Union, Eugene Debs was arrested mid-strike, for ignoring the injunction and not stopping the strike, and from obstructing the mail from being delivered, which was transported by train.
As a result of the strike, the Pullman company was ordered by the government to sell all its employee housing that initially caused the strike. George Pullman's actions and the way he ran his company town were deemed by the President to be "un-American".
Labor Day
While the strike was still underway, a law was passed by Congress on June 28, 1894, that made the first Monday in September into an official federal holiday known as Labor Day, with the intent of appeasing the unions and recognizing the work of labor workers in America.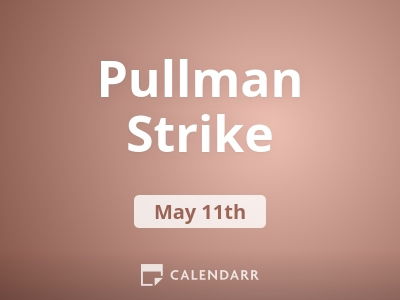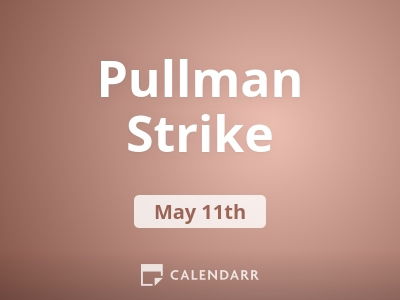 Pullman Strike - Next years
Wednesday, 11 May 2022
Thursday, 11 May 2023
Saturday, 11 May 2024
2021 Calendars