National Cheesesteak Day
Next

National Cheesesteak Day
Thursday, 24 March 2022
National Cheesesteak Day on March 24 celebrates an American classic - the cheesesteak sandwich. Born in Philadelphia, the sandwich, which is also known as a Philly cheesesteak, is made with melted cheese over sliced pieces of beefsteak inside a long hoagie roll. A delicious and indulgent American delicacy, the cheesesteak has risen from its humble beginnings to cultural icon status, and many people are very passionate about their opinion of where you can get the best cheesesteak sandwich.
History of National Cheesesteak Day
Unfortunately, as it happens with many food holidays, the origins and founder of National Cheesesteak Day are unknown. It could have been created by a cheesesteak fanatic, or by a restaurant wanting to promote their cheesesteak offers, perhaps we will never know.
And similarly to its celebratory day, the origins of the cheesesteak sandwich are not unknown, but they are very much debated. It seems no one can agree just how this American classic was invented.
The most popular theory, supported by Philadelphia's tourism website, is that two hot dog vendors from Philly, Pat, and Harry Olivieri, created the cheesesteak in the 1930s. One day, Pat and Harry decided to make a sandwich using grilled sliced beef and onions (the original version did not have cheese), when a taxi driver stopped by their hot dog stand and asked to try it. The man suggested that Pat and Harry should stop selling hot dogs and start selling this steak sandwich. And they did! The steak sandwiches became so popular that Pat eventually opened Pat's King of Steaks, a restaurant that is still open today.
Soon, other restaurants picked up on this delicacy and began selling their own variations of the cheesesteak sandwich. A man named Joe "Cocky Joe" Lorenza, an employee of Pat's, is credited with being the first person to add provolone cheese to the cheesesteak sandwich.
You can now eat cheesesteak in family-owned businesses, street food trucks, fast food chains, and even high-end restaurants. It has really become a Philadelphian institution, so divisive that you can even rival cheesesteak restaurants in Philly, and most people in Philly have a very strong opinion of where you can find the best cheesesteak.
How to Celebrate National Cheesesteak Day
This seems like an obvious one. The only way to really pay tribute to this American classic is by eating a cheesesteak today.
Many restaurants offer National Cheesesteak Day deals on March 24, so you can enjoy this iconic sandwich at a discounted price (perhaps even go all out and eat two? It is a special day after all.) It's even better if you're lucky enough to live in Philadelphia, but even if you don't it is likely that some restaurants around you serve cheesesteaks.
Are you a cheesesteak aficionado? Then, if you have the opportunity, why not travel to where it all started? Visit Philadelphia and do a tour of all the cheesesteak restaurants to decide once and for all which one serves the best sandwich.
If you love cooking then roll up your sleeves and craft your own attempt at making a delicious cheesesteak sandwich. Invite some friends over and make a big occasion of National Cheesesteak Day.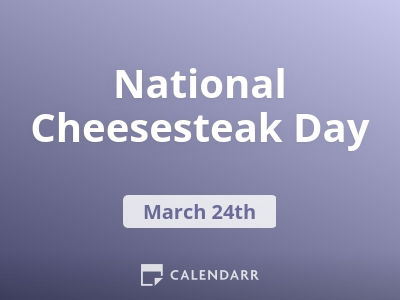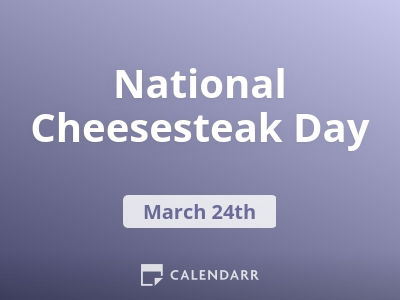 National Cheesesteak Day - Next years
Friday, 24 March 2023
Sunday, 24 March 2024
Monday, 24 March 2025
2021 Calendars