National Custodian Day
Next

National Custodian Day
Saturday, 2 October 2021
National Custodian Day, also known as Custodial Worker Day and National Custodial Workers Recognition Day, is commemorated every year on October 2nd. Custodians are the people who keep schools and workplaces clean and running smoothly, and they work very hard to do so, so they certainly deserve a day in their honor. Custodial work is often a thankless job, and custodians are overlooked, not getting the recognition they deserve.
Background
The origins of this unofficial holiday are unknown, but the first record of this day being mentioned online seems to date back to 2016. It is likely that someone recognized the need to create a day that celebrates the work of custodians, who have been keeping buildings, businesses, and schools well maintained for years often working long night shifts and performing physically demanding work. Because we don't always see them while they are doing their work, it is easy to forget that there are real people keeping our workspace clean when we're not there. This day serves as a reminder to everyone that the custodians at their workplace need to be appreciated.
Custodians do more than just clean, they also perform building maintenance and fix anything that is broken. Without them, buildings would fall in disarray, people wouldn't be able to do their jobs and students wouldn't have a good learning environment. Custodial work is often looked down on, but they are the oil that keeps the machine running.
To show your appreciation for the custodians at your work or school, make sure that you are tidy and keep your workplace as clean as possible so you don't make the custodians' job harder than it has to be. And start paying more attention to the little details around you, at the well stocked bathroom and organized break room cupboards and realize that someone had to do that for you.
How to celebrate National Custodian Day
This is a custodian appreciation day, so the best way to commemorate the day is by celebrating the custodians at your work.
Throw a party in their honor to show them that you are thankful for all their hard work. You can make it extra special by making it a surprise party for the custodians.
If you are the boss, do something nice for your custodians and give them new equipment to make their jobs easier!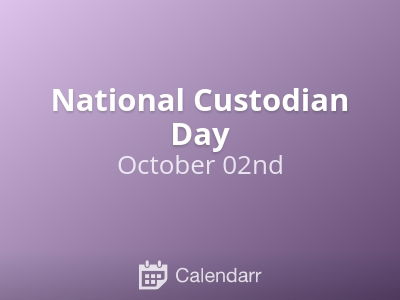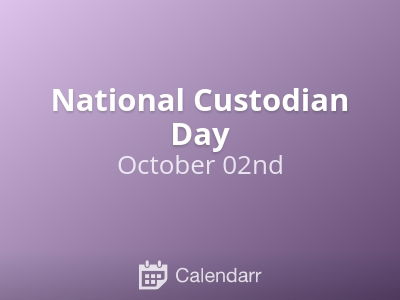 National Custodian Day - Next years
Sunday, 02 October 2022
Monday, 02 October 2023
Wednesday, 02 October 2024
2021 Calendars