National Video Game Day
Next

National Video Game Day
Thursday, 8 July 2021
On July 8 we celebrate National Video Game Day (Not to be confused with National Video Games Day on September 12). All of us have played video games at some point in our lives, and likely have video games that marked and defined our childhood. This is a day to commemorate the games that have played a big role in our lives, the art behind the making of such games, and the skill that professional video game players have.
Background
The earliest record of a Video Games Day was traced by Frank Cifaldi, an employee of the Video Game History Foundation, back to 1991, where a Videogame Day first appeared in Chase's Calendar of Events. The day was established as July 8, and sponsored by someone named David Earle, who was the president of Kid Video Warriors. It is very easy to put a date in Chase's Calendar, you simply need to submit it as a sponsor, which means that Video Games Day is an unofficial holiday.
Eventually, in 1997, the date was changed to be celebrated on September 12, but video games are so popular that aficionados continue to commemorate them on both days.
The first video game to be released to the public in 1972 was Pong, a tennis game. Later, in the 1970s and 1980s video games saw a boom in popularity, when technology evolved enough to make games and consoles available to a wider public. Up until then, people would meet up with their friends to play in arcades. Video Games quickly became a huge part of popular culture that kept advancing and evolving, with more complex video games being released every year, with better graphics and engrossing gameplay. Nowadays, people have video games at the tip of their fingers, as they have become available on mobile phones and tablets.
What to do on National Video Game Day
The obvious thing to do on this day is to play video games, whether alone or with friends. But why not stray away from your usual games and try new ones, or re-discover old favorites? See if you still have your old consoles and spend a nostalgic gaming day, playing your childhood games.
There are also bound to be gamer meetings in bars or arcades, where video game fans gather to talk about their favorite games or play them together. The perfect way to make friends with people who share the same interests.
Some video game stores may have good National Video Game Day deals on games for Video Game Day, so you can stock up on some new ones!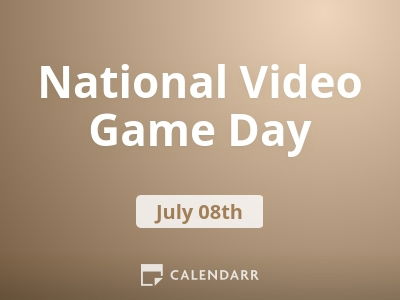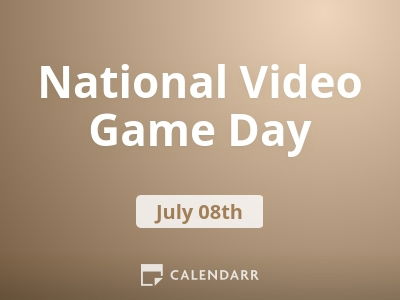 National Video Game Day - Next years
Friday, 08 July 2022
Saturday, 08 July 2023
Monday, 08 July 2024
2021 Calendars