National First Responders Day
Next

National First Responders Day
Thursday, 28 October 2021
National First Responders Day takes place on October 28 and commemorates the heroic acts of the men and women who are there first on the scene of an emergency. This day is all about showing appreciation for firefighters, EMTs, paramedics, police, and others who risk their lives to save others.
Background
After the Boston Marathon bombing in 2013, police officer Sean Collier was shot and murdered, while responding to reports of a disturbance. In his honor, his brother Andrew Collier fought to start a movement of support for the country's first responders, with the help of the All Clear Foundation. The movement grew in popularity with those who wanted to pay their respects to the people who do this dangerous work. Eventually, word of this movement reached senators in Washington D.C. who moved to create a national day of recognition for first responders in the United States.
On May 18, 2017, Senators Elizabeth Warren and Tom Cotton proposed the establishment of National First Responders Day as an official observance. It was only on June 7, 2019, that the resolution passed in the Senate, designating October 28 as National First Responders Day.
Many states, such as Colorado, were already celebrating this day before it became a national observance.
First responders are ready every day and night to attend to emergencies that could be life-threatening to them. National First Responders Day makes sure that we don't forget their selflessness and the sacrifices that they make for all of us, in some of the most dangerous careers someone can have. On October 28 it is important to show how much we appreciate their service, and let them feel like the heroes that they are.
What to do on National First Responders Day
Show your appreciation for your local first responders by rallying a group of people together to bake some delicious treats and write thank-you cards and distribute them around your city's stations.
If you're a first responder, take advantage of the many first responder offers and discounts available in restaurants and stores for National First Responders Day.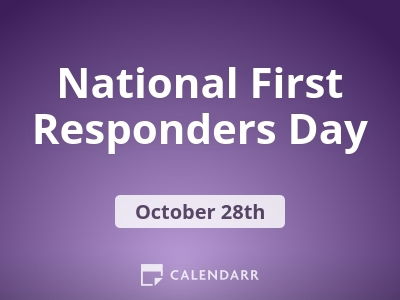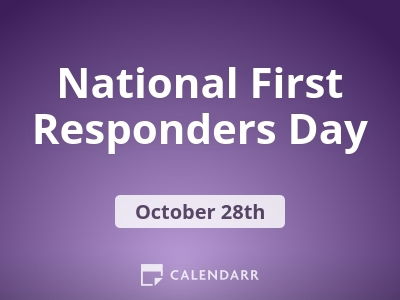 National First Responders Day - Next years
Friday, 28 October 2022
Saturday, 28 October 2023
Monday, 28 October 2024
2021 Calendars