National Librarian Day
National Librarian Day, also known as National Library Workers Day, is celebrated on the Tuesday of National Library Week. National Library Week is an annual event held in April, usually falling within the first two weeks of the month. On National Librarian Day we honor the library workers that keep our libraries in order and contribute to the enrichment of our communities every day.
In 2021, National Librarian Day falls on April 6.
History of National Librarian Day
To know the history of this holiday, we must look into the origins of National Library Week. The event is sponsored by the American Library Association (ALA) and was first celebrated in April of 1958. However, the ALA only introduced National Librarian Day in 2004, to campaign for better benefits and salaries for library staff, which had been stagnant for a long time. The day continues to promote and raise support for fair wages for library workers, but it is also an opportunity to celebrate the work that they do and educate the community on what goes into the job of being a librarian.
Many people don't realize the hard work that goes into becoming a librarian. Library workers are usually trained in Library Science and must know how to work with complex cataloging systems to organize the books and materials in a library. This means that librarians usually have an amazing memory, and can often not only tell you where a book is without looking into the system, they can also tell you where to get the perfect material for whatever research you're doing.
Librarians are also in charge of ordering the books for their library, organizing events, activities, and talks that take place in libraries, and dealing with all the people that come into the library every day.
Why are Libraries and Librarians Important?
Libraries date all the way back to ancient Rome and Egypt, where they were sources of knowledge and provided a forum for intellectual discussions.
Those two fundamental purposes of a library have not changed much. Libraries house thousands of books, magazines, microfiches, and other media materials, and anyone doing research on a specific topic is sure to find it in a library. Libraries are also usually the only place, apart from museums, where you can find more information on your local history, by looking at records on books and newspapers of whatever era you're interested in.
Libraries are also the place of many events for people of all ages, such as seminars, lectures, workshops, and book clubs. A place where anyone can come to learn and exchange information and ideas with like-minded people.
All of this is only possible because of Librarians. They are the people that keep libraries running smoothly, and are always willing to help anyone with their vast knowledge.
How to Celebrate National Librarian Day
On this day, the American Library Association, local schools, and community organizations, host events in honor of their library workers. These can be symbolic award ceremonies, lunches to celebrate library staff, and fundraisers for the libraries.
If you are a regular visitor at your local library don't forget to drop by today to thank the library workers, maybe bring them a card and flowers, or some homebaked goods. You can also offer them a hand, by asking if the library needs any book donations or any volunteers.
Join the true cause of this holiday by petitioning with your local government for higher wages and better benefits for librarians.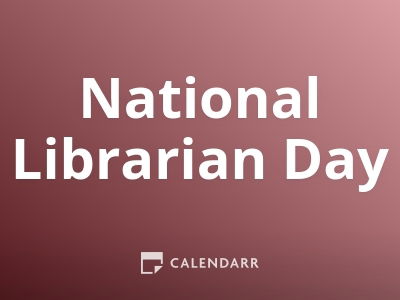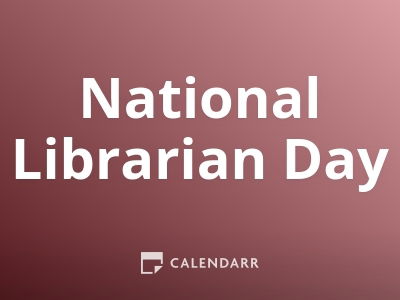 2021 Calendars