National Plant a Flower Day
Next

National Plant a Flower Day
Friday, 12 March 2021
March means that Spring is right at the door, and with its arrival, flowers begin to bloom. Make sure spring is as colorful as possible by taking part in National Plant a Flower Day on March 12. The sunshine and warmer weather of Spring are enough to lift people's moods, but no one can resist the beauty of flowers: their colors and scents can put a smile on anyone's face. Raise your spirits by planting some flowers today!
History of National Plant a Flower Day
The origins of National Plant a Flower Day are unknown, but March 12 falls right in the middle of March, which is when the gardening season begins. It could be that some green thumbs realized this would be the perfect day to prepare their gardens for Spring, and wanted to encourage others to follow suit!
While before gardening used to be thought of as a hobby for older people, nowadays, people of all ages enjoy getting some dirt under their fingernails. Children join their parents or grandparents in the garden and younger people see themselves as "plant parents" and fill their rooms and homes with plants. So, anyone and everyone can participate in National Plant a Flower Day!
Start by researching which flowers thrive where you live, and try to plant some perennials, which are flowers that grow back every year, so you don't have to worry about replanting them every year. You can find this information on the USDA website. If you don't have a garden, you can still plant some flowers in pots and keep them inside. Just remember to look up what flowers do well indoors, and the proper care for them. This is the perfect way to bring Spring to your own home.
The official flower of March, and therefore a flower that we see everywhere when Spring arrives, is the Daffodil (also known as Narcissus).
How to Celebrate National Plant a Flower Day
On National Plant a Flower Day get your inner green thumb out and get to work on your garden or buy some indoor plants. Do some research before you start your gardening, if you have a local greenhouse visit them to ask for advice regarding plants and tools that you can use.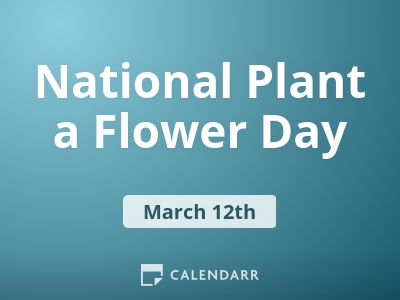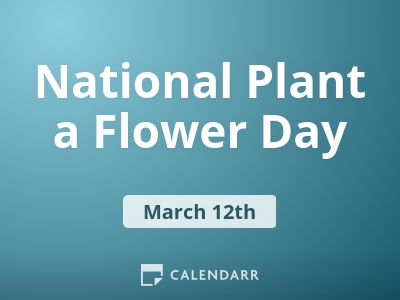 National Plant a Flower Day - Next years
Saturday, 12 March 2022
Sunday, 12 March 2023
Tuesday, 12 March 2024
2021 Calendars