National Girl Scout Day
Next

National Girl Scout Day
Saturday, 12 March 2022
National Girl Scout Day is celebrated on March 12, the birthday of Girl Scouting in the United States. It is part of National Girl Scout Week, which happens from March 8th-14th every year. Girl Scouting in America has millions of members, and it provides girls all around the country with enrichment programs, outdoor activities, and service projects that prepare them for life.
History of National Girl Scout Day
The origins of National Girl Scout Day are tied to the founding of Girl Scouting in the United States. It was on March 12, 1912, that Juliette Gordon Low officially registered the Girl Guides of America, as it was originally named, and its original 18 members, as an organization. The first Girl Guide troop meeting took place on the same day, in Savannah, Georgia, with Gordon Low and the 18 girls.
By bringing Girl Scouting to America, Juliette Gordon Low wanted to teach girls to be resourceful and adventurous, and bring them out of their homes to experience the outdoors and serve their community. Eventually, she tried to reach out to similar organizations to join forces and advance the Girl Guides. One of those organizations was the Girl Scouts of America, which at the time was run by Clara Lisetor-Lane, who threatened to sue Gordon Low for copying her.
However, in 1913, the Girl Scouts of America under Lisetor-Lane ran out of financial resources, so Juliette Gordon Low incorporated the organization and changed the name from the Girl Guides to the Girl Scouts of America, eventually moving the organization to New York in 1915.
The numbers of Girl Scouts in America just kept rising from then on, and from 18 girls, the organization now counts with over 4 million members. Around 50 million women have been a part of the Girl Scouts since it was founded.
So, National Girl Scout Day is commemorated on March 12, as it is the birthday of when the movement was founded in America.
Girl Scouts of America Traditions
Like other similar organizations, the Girl Scouts have their own symbols, traditions, and motto.
Motto:
The Girl Scouts motto is "Be Prepared". A Girl Scout must always be ready to help when she is needed.
Hand Sign:
When saying the Girl Scout Promise, the Girl Scouts do their official hand signal - raising three fingers on the right hand, with the thumb over the pinky.
Girl Scout Salute:
Girl Scouts salute other scouts by shaking hands with their left hand and raising the right hand to do the Girl Scout hand sign.
SWAPS:
SWAPS stands for "Special Whatchamacallits Affectionately Pinned Somewhere.", which are small tokens of friendship that Girl Scouts trade with each other when traveling.
National Girl Scout Day Activities
National Girl Scout Day is observed by past and present Girl Scouts, together with their troops. If you're currently in the Girl Scouts you will likely be celebrating it with your friends, but if you're no longer a Girl Scout you can still participate! Contact the troops you were a part of and ask if you can take part in the celebrations, you can meet the new Scouts and share your experience with them.
Don't forget to share what you love the most about Girl Scouting on social media! Put some of your favorite photos on your profile, with the hashtag #NationalGirlScoutDay.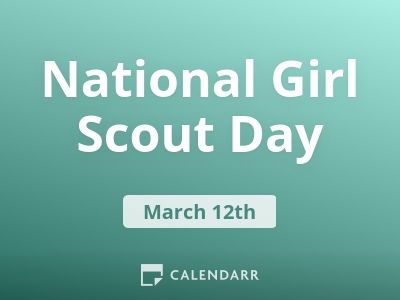 Other Celebrations
International Day of the Girl Child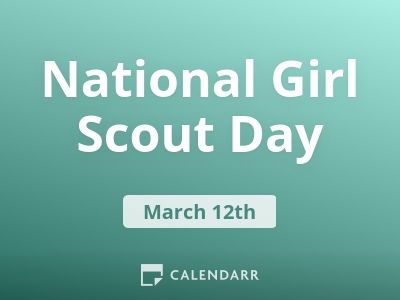 National Girl Scout Day - Next years
Sunday, 12 March 2023
Tuesday, 12 March 2024
Wednesday, 12 March 2025
2021 Calendars