Patriot Day
Next

Patriot Day
Saturday, 11 September 2021
Patriot Day, or the National Day of Prayer and Remembrance for the Victims of the Terrorist Attacks on September 11, 2001, is held on September 11 each year. It is also known as 9/11 or September 11. It is an annual observance, but not a holiday. Businesses, etc., follow regular opening hours.
Patriot Day is not the same as Patriots' or Patriots Day, which commemorates the first battles of the American Revolutionary War.
What Happened on September 11
On September 11, 2001, 19 Islamist extremists hijacked 4 planes in a series of attacks orchestrated by Al-Quaeda.
At 8.46 a.m., the first plane, American Airlines Flight 11, was flown into the north tower of the World Trade Center, New York.
At 9.03 a.m. the second plane, United Airlines Flight 175, crashed into the south tower.
By 10.30 a.m., both towers had collapsed, killing fleeing workers and first responders.
At 9.37 a.m., American Airlines Flight 77 hit the Pentagon, Virginia, killing workers in the building and all on board.
Passengers on United Airlines Flight 93, suspected to be heading for Washington D.C., try to regain control of the plane. In the ensuing struggle, it crashed into a field near Shanskville, Pennsylvania, at 10.03 a.m., killing all on board.
At 5.20 p.m, Seven World Trade Center collapsed, but no deaths were reported.
In total, 2,977 people were killed in the attacks. It is the worst terrorist incident in history.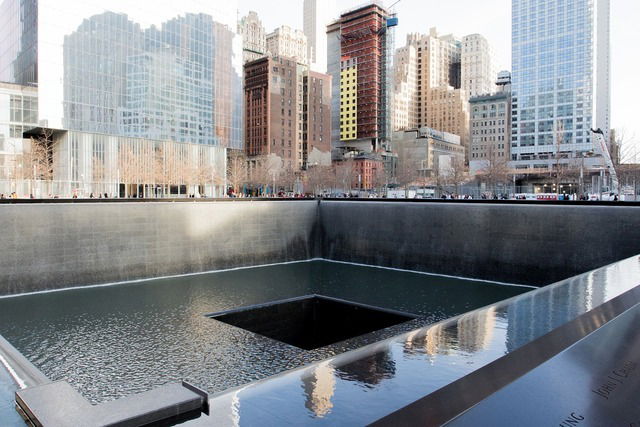 National 9/11 Memorial, New York City
How It Is Observed
People observe a minute's silence at 8.46 a.m. and at other times, which mark the main events of the day. Many travel to the National 9/11 Memorial and other memorial sites in order to honor the victims and lay flowers. Churches also hold remembrance services in key areas.
Each year, the President issues a proclamation to direct citizens to participate in appropriate activities in honor of the victims. It also instructs all Federal facilities and citizens around the world to fly the United States flag at half-mast, from sunrise to sunset.
There are also volunteer and service opportunities in local communities, particularly to provide support and assistance to veterans and survivors.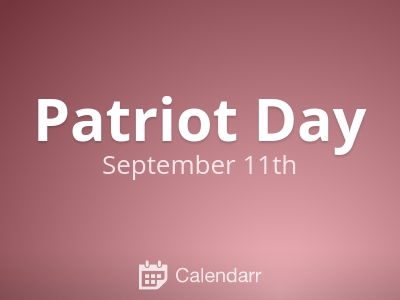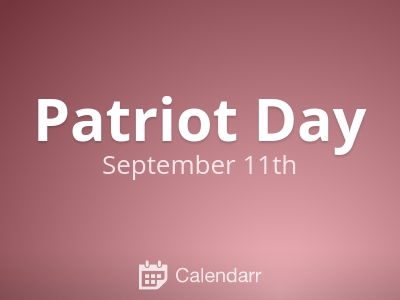 Patriot Day - Next years
Sunday, 11 September 2022
Monday, 11 September 2023
Wednesday, 11 September 2024
2021 Calendars