Pearl Harbor Remembrance Day
Next

Pearl Harbor Remembrance Day
Tuesday, 7 December 2021
National Pearl Harbor Remembrance Day takes place on December 7. It commemorates the attack on Pearl Harbor, Hawaii, on December 7, 1941. The day is also known as Pearl Harbor Remembrance Day and Pearl Harbor Day. It also honors efforts made in the war.
It is a federally recognized observance, but it is not a holiday. Federal offices and businesses follow normal working hours.
What Happened?
On December 7, 1941, just before 8 a.m., hundreds of Japanese fighter planes and submarines attacked the United States naval base of Pearl Harbor.
In just over an hour, the attack destroyed or damaged more than 300 aircraft and 19 Navy ships, including 8 battleships.
More than 2,400 Americans died and over 1,100 were injured. Both navy personnel and civilians died in the battle.
President Franklin D Roosevelt called it "a date that will live in infamy," and declared war on Japan the following day. Three days later, Japan's allies Germany and Italy declared war against the United States. Thus, the United States entered World War II.
Why Was Pearl Harbor Attacked?
There had been strained relations between the United States and Japan for decades. The United States had been alert to Japan's efforts of expansion, particularly as Japan had declared war on China in 1937. Japan intended to attack the Philippines, Burma, and Malaya in order to obtain needed resources. The United States Pacific Fleet stood in their way. By Mid-1941, the Japanese occupied all of Indochina and had entered into the Tripartite Pact with Germany and Italy, the Axis Powers.
The United States, in turn, imposed economic sanctions and trade embargoes on Japan, stifling their access to essential war materials. The sanctions strained relations between the two countries even more. Despite months of negotiations, no agreement was made. War seemed inevitable.
The Pacific was an area of significant importance, and Pearl Harbor had been a principal site of the American Naval placement in the Pacific Ocean since 1887. It, however, was in the middle of the Pacific Ocean and 4,000 miles away from Japan. No one suspected a war would begin there. The harbor was left relatively defenseless. Warnings issued from America months in advance, and even from radars on the day, were ignored. The Pacific Fleet was moored side-by-side around Ford Island in the harbor, and hundreds of airplanes sat vulnerably in surrounding fields.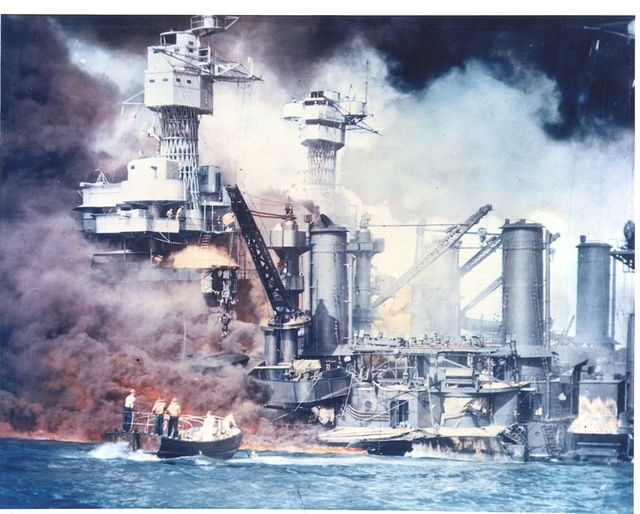 The Aftermath
Although Pearl Harbor started the Pacific War, the United States Navy was able to recover quickly from the attack as main supplies were not damaged. Many ships were salvaged and repaired.
The cost of human life was high: The U.S. military lost over 106,000 in the Pacific War; Japan lost 2.1 million.
Americans of Japanese descent were also considered a threat to security. Therefore, in March 1942, the federal War Relocation Authority (WRA) was established "to take all people of Japanese descent into custody, surround them with troops, prevent them from buying land, and return them to their former homes at the end of the war."
History of Pearl Harbor Day
In August 1994, the United States Congress designated December 7 as National Pearl Harbor Remembrance Day. In November, President Bill Clinton issued a proclamation declaring December 7, 1994, the first National Pearl Harbor Remembrance Day.
How Is Pearl Harbor Day Observed?
Each year the President issues a proclamation to honor the military with appropriate ceremonies and activities. All Federal agencies are required to display the American flag at half-staff. Citizens who display the flag are asked to do the same.
There are memorial services held at the Pearl Harbor National Memorial in Honolulu, Hawaii, leading up to a commemoration ceremony on December 7.
In schools, special programs focus on educating students about the history of Pearl Harbor. It also teaches young people about the internment and ill-treatment of Japanese-Americans.
There have also been many movies, miniseries, and documentaries about the attack.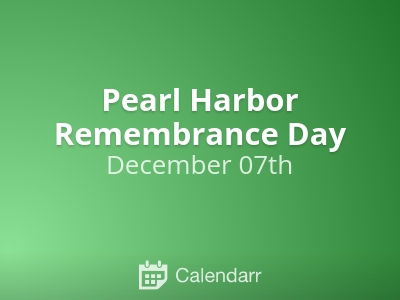 Other Celebrations
Transgender Day of Remembrance

Rainbow Bridge Remembrance Day

National Homeless Persons' Remembrance Day

International Day of Remembrance and Tribute to the Victims of Terrorism

International Day for the Remembrance of the Slave Trade and its Abolition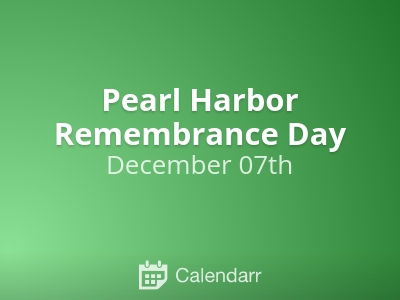 Pearl Harbor Remembrance Day - Next years
Wednesday, 07 December 2022
Thursday, 07 December 2023
Saturday, 07 December 2024
2021 Calendars