Purple Day
Next

Purple Day
Saturday, 26 March 2022
Purple Day is celebrated internationally on March 26, to raise awareness about Epilepsy. Even though this neurological disease affects around 50 million people worldwide and 3.5 million in the United States, there is still a lot of misinformation and stigma surrounding it. Purple Day exists to dispel myths about the disorder and let those who suffer from epilepsy know that they are not alone, encouraging them to reach out to their community and advocate for better education on epilepsy, with the help of the many grassroots organizations dedicated to the cause.
History of Purple Day
Purple Day was founded in 2008 by Cassidy Megan, a nine-year-old from Nova Scotia, in Canada. Having been diagnosed with epilepsy, Cassidy began to understand the struggles of those who have to live with the neurological disorder, mainly the stigma that exists around it because of miseducation and lack of understanding. Her goal was to create a day that would raise awareness about epilepsy and give people and organizations a platform to educate the public, dispel the fear around it, and give those who suffer from epilepsy a support network.
Cassidy had the support of the Epilepsy Association of Nova Scotia, who helped her organize the first Purple Day for Epilepsy Campaign, on March 26, 2008. In 2009, the Anita Kauffmann Foundation and Epilepsy Association joined in the efforts to make Purple Day an international observance, and get politicians, celebrities, schools, organizations, and businesses to support the campaign.
Since Purple Day was first celebrated, thousands of schools and organizations, as well as hundreds of celebrities and politicians have hosted events in support of the campaign to educate the public on epilepsy and end the stigma around the disorder and those who have been diagnosed with it.
What is Epilepsy?
In a very simplified way, epilepsy is a neurological disorder that impacts the brain and the central nervous system, causing recurrent epileptic seizures, that can vary in length and severity. There are different causes and types of epilepsy, that result in varying degrees of seizures.
Epilepsy can affect anyone regardless of gender and age and is actually the fourth most common neurological disorder. It is also highly treatable, and 70% of those who live with epilepsy can be free from seizures just with the help of medication. For the 30% who have epilepsy that does not respond to medication, there are other effective treatments that control or even eliminate seizures.
Despite all this, there is still a lot of misinformation about epilepsy, and those who are diagnosed with it are often discriminated against because of this. However, people with epilepsy can still take control of their disorder with treatment, and live normal lives.
How to Observe Purple Day
On this day, people are encouraged to wear purple clothing to show their support to the cause. If you join in on the initiative to wear purple, don't forget to start conversations with friends and family to educate them on epilepsy and help in the efforts to end the stigma associated with it.
Want to help further? Volunteer at a fundraising event, or even host your own in your community. You can also donate to the research that is going into discovering a cure for epilepsy.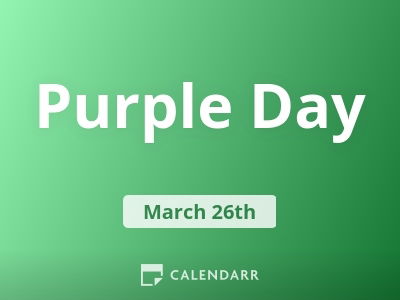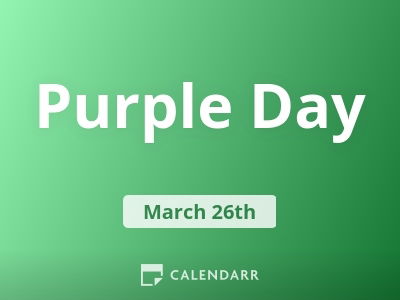 Purple Day - Next years
Sunday, 26 March 2023
Tuesday, 26 March 2024
Wednesday, 26 March 2025
2021 Calendars