Martin Luther King Day
Holiday
Next

Martin Luther King Day
Monday, 17 January 2022
Martin Luther King Day, or Martin Luther King Jr. Day, is observed on the third Monday of January. It is also known as Martin Luther King's Birthday. It is a federal holiday and a day off - most schools and businesses are closed. Martin Luther King Day is held in honor of Martin Luther King Jr., the famous civil rights leader.
In other states, such as Arizona, it is combined with Civil Rights Day. In Idaho, it is also Human Rights Day. In some states, Robert E Lee's birthday is observed instead. In Wyoming, it is known as Wyoming Equality Day.
Martin Luther King's birthday is January 15. However, under the Uniform Monday Holiday Act of 1968, certain holidays, such as this one, are celebrated on a Monday to enable more families to spend time together.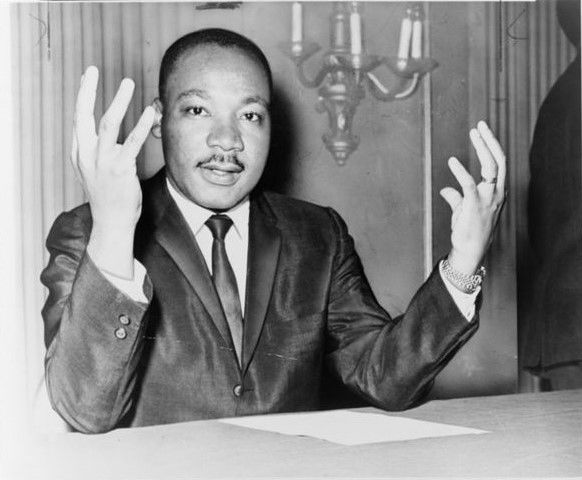 What Did He Do?
Born in 1929, and gaining a doctorate in theology in 1955, Dr. Martin Luther King Jr. was a Baptist minister and an important social activist in the American civil rights movement.
His notable and memorable acts include heading the 381-day protest against segregation on public transportation, initiated by Rosa Parks on December 1, 1955. This resulted in the Supreme Court's declaration of such segregation as unconstitutional in November 1956.
In 1957, he founded the Southern Christian Leadership Conference (SCLC) which fought to gain full rights for African Americans in the United States, through non-violent protest.
In 1963, supported by various civil rights and religious groups, King organized his famous March on Washington for Jobs and Freedom to highlight the daily struggles that African Americans faced. Around 250,000 people participated. The march ended at the Lincoln Memorial, where the crowds gathered to hear King's renowned "I Have a Dream" speech, calling for peace and equality. It contributed to the passing of the Civil Rights Act of 1964, outlawing discrimination based on color, religion, sex, or national origin.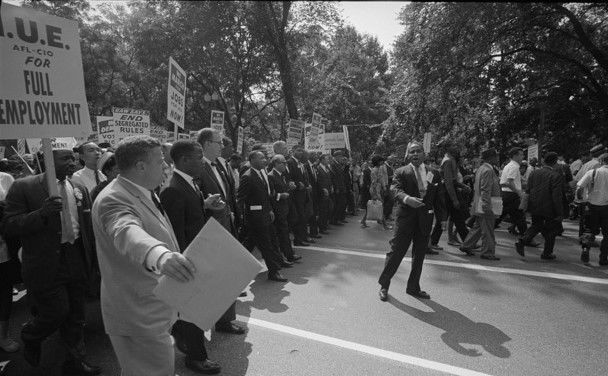 For his work, King was awarded a Nobel Peace Prize in 1964 and was the youngest person to receive one.
In 1965, King headed the Selma to Montgomery March, the success of which resulted in the Voting Rights Act in August, guaranteeing the right to vote for all African Americans.
He then went on to address such issues as the Vietnam War and the poverty that Americans of all races faced, which drew controversy for him from all sides.
Martin Luther King was assassinated on April 4, 1968.
History of the Day
4 days after King's assassination, a campaign was started to make his birthday, January 15, a federal holiday. Rep. John Conyers Jr. of Michigan presented the first legislation to Congress.
The King Memorial Center in Atlanta was founded in 1968 and celebrated his birthday in 1969. It proposed nationwide ceremonies and acted to gain support.
Some states such as Illinois, Massachusetts, and Connecticut passed their own bills to observe the day. Other states later did the same.
The SCLC obtained 3 million signatures petitioning for King's birthday to be recognized as a holiday. These were presented to Congress in 1971. Also, the Congressional Black Caucus (CBC) was founded in 1971, and Conyers was one of its founding members. It helped him to introduce his bill every year. Labor unions also supported the idea of a holiday, striking until the day was an official paid holiday for them.
The day, however, did not get the support it needed in Congress until President Jimmy Carter endorsed the holiday, in 1979. The King holiday bill came to a vote for the first time, but it fell short of the number required for passage.
King's widow, Coretta Scott King, continued to fight on behalf of the day. Every year, Conyers presented the legislation to the floor, and every year, it failed to get the votes it needed. Stevie Wonder also became an active supporter, organizing concerts and performing at rallies. Wonder released his song "Happy Birthday" in 1980 in support of the holiday, and it quickly became a hit. He also backed the setting up of a lobbying office in Washington D.C.
By 1982, the CBC had collected 6 million signatures petitioning for the holiday. That same year, Scott King and Wonder presented them to the Speaker of the United States House of Representatives. On the 20th anniversary of the 1963 March on Washington, more than 500,000 people gathered to hear speakers ask for the Senate and President Ronald Reagan to pass legislation for the holiday.
Finally, despite fierce opposition, on November 3, 1983, President Reagan signed a bill decreeing the third Monday of every January Martin Luther King Jr. Day. It was first observed in 1986, although it was not until the year 2000 that it was observed in all states - South Carolina was the last state to sign a bill acknowledging that Martin Luther King Day would be a paid holiday. In 1990, the Wyoming legislature designated the day as joint Martin Luther King Jr./Wyoming Equality Day.
It was the first holiday held in honor of a modern-day, private citizen.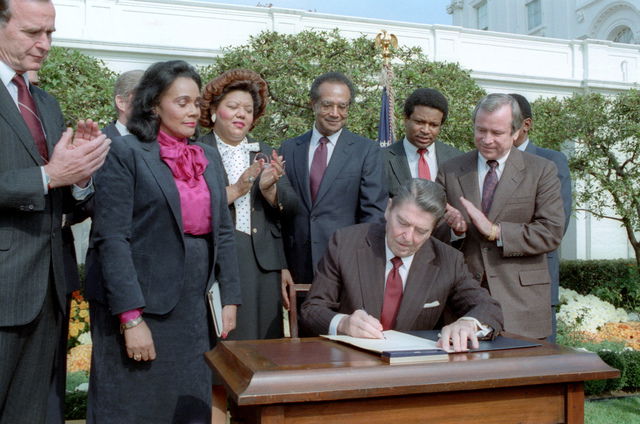 How It Is Observed
Martin Luther King continually asked: "What are you doing for others?", and so millions around American choose to volunteer their time and efforts to give back to their communities, getting involved in soup kitchens, clean-ups, visiting isolated people, or even virtual volunteering.
In the 1990s, the theme of the holiday became: "Remember-Celebrate-Act. A Day on, Not a Day Off."
It also encourages people to think about equal rights for all American citizens. Some schools and educational establishments do not close. Instead, they use the day to teach their students about what Martin Luther King did for civil rights.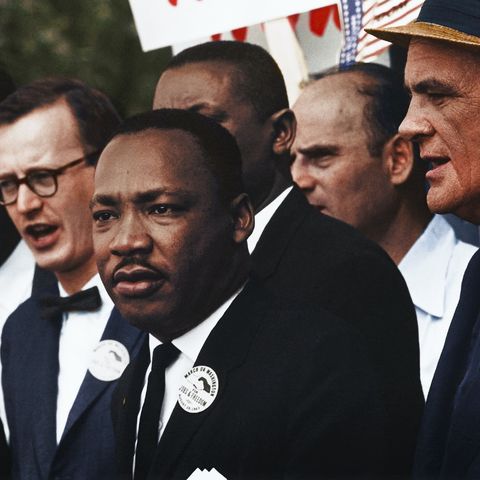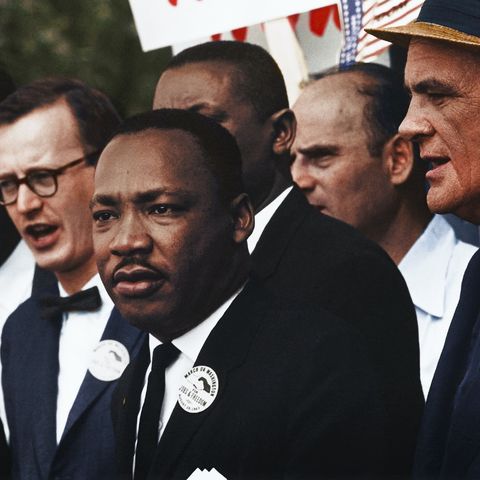 Martin Luther King Day - Next years
Monday, 16 January 2023
Monday, 15 January 2024
Monday, 20 January 2025
2021 Calendars