United Nations Day
Next

United Nations Day
Sunday, 24 October 2021
United Nations Day is celebrated on October 24, the anniversary of the founding of the United Nations Charter, in 1945. This day commemorates the work that the United Nations and its agents do around the world, and it looks back on the history and accomplishments of the UN.
United Nations Day is an international observance, but it is not a public holiday in the United States.
Background
After the end of World War I, participating countries envisioned the establishment of an organization, a "League of Nations", whose purpose would be to prevent wars, mediate diplomatic negotiations, encourage disarmament, discourage conflicts between countries, and to better the lives of people in all countries around the world.
Years later, World War II would devastate the world to an extent that had never been seen before, so it became more crucial than ever to have such an organization in place, to keep the peace and fight the power of the Axis powers. On April 25, 1945, there was an international conference in San Francisco where delegates from 50 countries came together to draft the United Nations Charter. This was signed on June 25, and became official on October 24, 1945. Thus, the United Nations was born, to maintain peace, provide international humanitarian aid, enforce international law and protect human rights.
United Nations Day became an official holiday in 1948, to celebrate the establishment of the UN. In 1971, the UN invited all of its member states to make United Nations Day a public holiday. This would raise awareness around the globe to the important work that the UN and its aid workers and agents do for us every day.
There are currently 193 member states in the United Nations, who all provide humanitarian aid for other countries.
How United Nations Day is celebrated
To promote United Nations Day and the work that the UN is doing, there are several international events organized across the world.
In Paris, the United Nations Educational, Scientific and Cultural Organization (UNESCO) has meetings and conferences where the achievements and goals of the UN are discussed, as well as exhibitions that highlight the work that has been done since 1945.
Schools around the globe are encouraged to host cultural celebrations of their diversity in the student and staff bodies.
And in New York, and the United Nations Headquarters, there is an annual United Nations Day concert, where many famous performers and orchestras have performed throughout the years.
You can celebrate United Nations Day by getting inspired by their work and take action yourself. Find a cause that you are passionate about, and donate to it or, if you can, volunteer. The UN has several different branches that work for different causes, so you're sure to find a cause to help.
Social media has become a powerful tool to raise awareness about causes and issues. Use yours for good and share the work that the UN has been doing with your friends and family.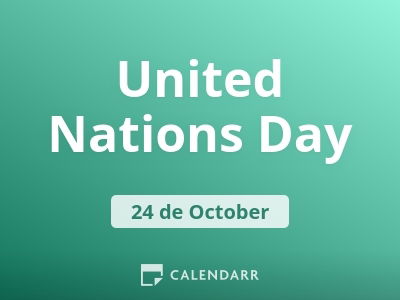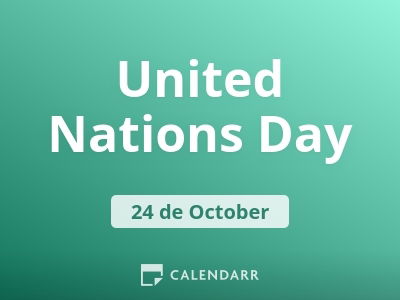 United Nations Day - Next years
Monday, 24 October 2022
Tuesday, 24 October 2023
Thursday, 24 October 2024
2021 Calendars