International Volunteer Day
Next

International Volunteer Day
Sunday, 5 December 2021
International Volunteer Day, also known as the International Volunteer Day for Economic and Social Development, is a United Nations observance celebrated around the world on December 5. It is a day for volunteer organizations and their volunteers to have their efforts commemorated and praised, as well as an opportunity to show the work that they do in their communities, on a national and international level, and encourage others to join them.
Background
International Volunteer Day was established on December 17, 1985, by the United Nations General Assembly. The aim was to give organizations, foundations, and volunteers an opportunity to show their contributions to local and international communities, and allow volunteers to have their work recognized.
The United Nations also helps Non-Governmental Organizations connect with other institutions in the private sector, charity foundations, and government agencies so that together they can set new goals for volunteering, achieve the Sustainable Development Goals, and spread their efforts further. Governments of the UN member states are also encouraged to give more support to volunteer organizations.
There are currently an estimated 109 million full-time volunteers internationally, and 970 million volunteers overall. Around 30% volunteer through organizations and groups and 70% consists of individual volunteers that work informally with other individuals who want to help their communities.
Volunteers are what keeps charities working and moving forward. Most volunteers work without expecting anything in return, without being paid, and many do so at their own expense, of their money and their time. They work out of their own kindness and love to help others. There are many benefits to volunteering, not just the feeling of reward for helping others, it also strengthens the body and the mind.
International Volunteer Day Themes
Because it is a United Nations holiday, there is a different theme for International Volunteer Day every year. In 2015 the theme was "Your world is changing. Are you? Volunteer!". The theme for 2017 was "Volunteers Act First. Here. Everywhere.", and in 2018 the chosen theme was "Volunteers build Resilient Communities".
How to observe International Volunteer Day
This is the perfect day to start volunteering if you have been thinking about doing it. There are many ways that someone can volunteer because we all have different strengths. Research local charities and contact them offering to help them with your skills, they might have some area you can help them with.
If you can donate your time, then consider joining an organization like a food bank, an animal shelter, a hospital or nursing home, even a library or national park. These places can usually always use an extra hand.
If you are already a volunteer, think about some extra ways that you and your colleagues can help your communities. At the same time, you can organize an event that can act as a fundraiser, as well as an opportunity to inspire and recruit more people to help you.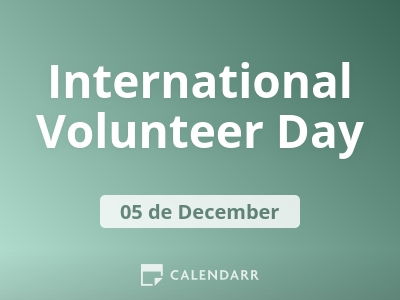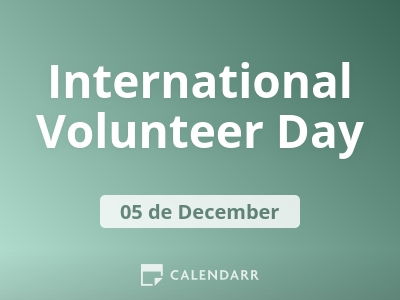 International Volunteer Day - Next years
Monday, 05 December 2022
Tuesday, 05 December 2023
Thursday, 05 December 2024
2021 Calendars