World Down Syndrome Day
Next

World Down Syndrome Day
Sunday, 21 March 2021
World Down Syndrome Day is celebrated every year on March 21, to raise awareness and educate the public about the congenital disorder. It also gives people with Down Syndrome and their families an opportunity to talk about their experiences and advocate for the wellbeing and inclusivity of those living with Down Syndrome.
March 21 is a symbolic date to observe World Down Syndrome Day on because the third month of the year represents the unique triplication of the 21st chromosome, which is what causes Down Syndrome.
Background
The Down Syndrome International organization has been promoting World Down Syndrome Day and hosting events around the world for it since 2006, in an effort to raise awareness and fight misconceptions about the condition.
Eventually, DSI launched a worldwide petition to the United Nations to adopt World Down Syndrome Day as an official observance. They were successful, and on December 19, 2011, the UN General Assembly declared March 21 as World Down Syndrome Day, to be observed annually from 2012. All Member States are invited to participate in the observance, and international organizations are encouraged to host events with the purpose of educating the general population about Down Syndrome.
World Down Syndrome Day supports those who live with the congenital disorder and encourages them to live a full life and be an active part of their communities, giving them the recognition and empowerment they deserve. To do so, the day and the organizations that participate in it, raise awareness about the disorder and break some of the stigmas around it, so that the public can receive those with Down Syndrome into their communities with open arms. This day is also a great help for the 400,000 families in the United States who are affected by Down Syndrome, as it gives them resources on how to care for someone with Down's and is a great opportunity to raise money for research of the disorder and to find a cause for it.
This day also gives those with Down Syndrome a spotlight and an opportunity for them to raise their voices and advocate for themselves, to influence their governments towards more inclusive policies, and to be included in daily life discourse.
World Down Syndrome Day Themes, Logo, and Symbols
Since World Down Syndrome Day was adopted by the United Nations, in 2011, there is a different theme to mark the date each year. Some of the themes have included:
2017 – My Voice My Community
2018 – What I Bring To My Community
2019 – Leave No One Behind
2020 – We Decide (this theme has been extended into 2021 as well.)
The logo for World Down Syndrome Day is a Yellow and Blue ribbon, the colors that represent the genetic disorder.
The biggest symbol of World Down Syndrome Day that is used by many to raise awareness is Odd Socks! On March 21, those wanting to raise awareness about Down Syndrome wear odd, mismatched, crazy, colorful socks, and have them proudly on display while walking around. Those participating are also encouraged to share a photo of their odd socks on social media with the hashtag #LotsOfSocks. Why? This trend started because a chromosome looks like a sock, and people with Down Syndrome have an extra chromosome.
How to Celebrate World Down Syndrome Day
The best way to participate on World Down Syndrome Day is by educating yourself on Down Syndrome, and help to spread awareness and raise funds for research.
Start by putting on your craziest, brightest, mismatched socks in the morning, and sharing a photo of them on social media with the #LotsOfSocks. Don't forget to donate money for the campaign, if you can, and encourage others to copy you.
Go on the World Down Syndrome Day website, to find resources and information on how to organize your own fundraiser, and how to host an event in your school or community to raise awareness about this day.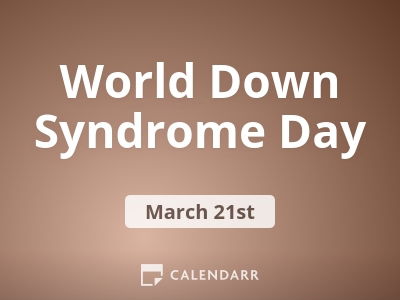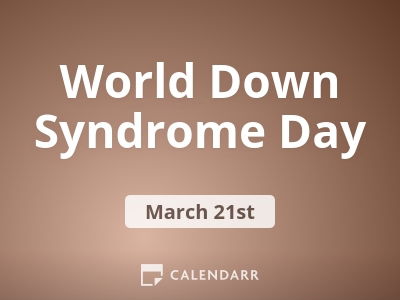 World Down Syndrome Day - Next years
Monday, 21 March 2022
Tuesday, 21 March 2023
Thursday, 21 March 2024
2021 Calendars