World Kidney Day
Next

World Kidney Day
Thursday, 10 March 2022
On the second Thursday in March, we observe World Kidney Day, an international campaign that raises awareness about how important kidneys are for our health and highlights the causes and impact of kidney disease in order to prevent it. The day is marked by public screenings, taking place all around the world, and awareness campaigns that focus on risk factors and preventive behavior.
History of World Kidney Day
The first World Kidney Day was celebrated in 2006 when it was established by the International Society of Nephrology and the International Federation of Kidney Foundations. It has been observed annually ever since, and it keeps growing in popularity around the globe.
There is a different theme for World Kidney Day every year, highlighting different issues related to kidney health. Here are some of the past themes:
2020 - Kidney Health for Everyone Everywhere – from Prevention to Detection and Equitable Access to Care.
2019 - Kidney Health for Everyone, Everywhere.
2018 - Kidneys & Women's Health. Include, Value, Empower.
2017 - Kidney Disease & Obesity – Healthy Lifestyle for Healthy Kidneys.
2014 - Chronic Kidney Disease (CKD) and aging.
2013 - Kidneys for Life – Stop Kidney Attack!
2012 - Donate – Kidneys for Life – Receive.
Why is World Kidney Day Celebrated?
Many people don't realize the important role that their kidneys play in their overall health. Kidneys act as filters in our bodies, getting rid of waste products and excess fluids in the blood, and also regulate blood pressure and produce life-sustaining hormones. Not just that, by filtering bad things out of our bodies, kidneys help with our bone health and strength and also aid the production of red blood cells.
Kidney failure can severely impact someone's health, and, in some extreme cases, be fatal. This is why it is so important to keep kidneys healthy, by practicing healthy habits, such as healthy eating, keeping active, maintaining a healthy weight, and regularly checking blood pressure and blood sugar levels.
World Kidney Day raises awareness about the importance of kidney health and educates people on kidney diseases, which are very common, can be very harmful but are often treatable if discovered at an early stage. When kidney issues go untreated, they can result in Chronic Kidney Disease, a progressive loss in kidney function that does not go away and can result in kidney failure.
How to Celebrate World Kidney Day
This day is all about raising awareness, so different health organizations host events to reach out to the public about kidney health. These can be public screenings, free exercise classes, lectures, and seminars.
If you or anyone you know has been impacted by kidney disease, consider donating to a kidney health association, to aid with research into kidney disease, its treatment, and prevention. Similarly, you can register as an organ donor, meaning that you can provide life-saving help to someone in need of a kidney transplant.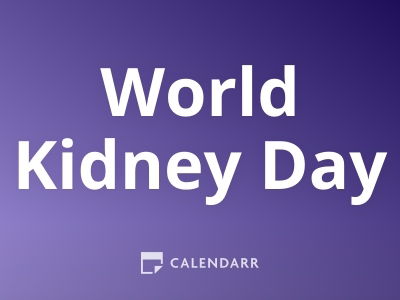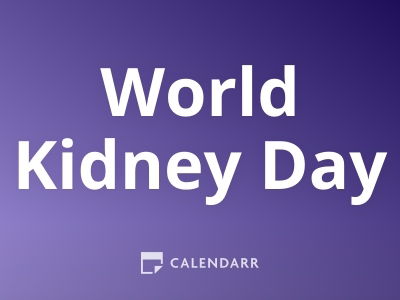 World Kidney Day - Next years
Thursday, 09 March 2023
Thursday, 14 March 2024
Thursday, 13 March 2025
2021 Calendars