Calendar
Administrative Professionals Day
Administrative Professionals Day
Next

Administrative Professionals Day
Wednesday, 21 April 2021
Administrative Professionals Day is an observance that takes place on the Wednesday of the last week of April. It is a day to recognize the work that administrative professionals such as secretaries, administrative assistants, receptionists, among others, do and how they are essential not only to their respective workplaces but also to the economy around the world.
It is not a public holiday, and most people celebrate the day while at work.
Background
During World War II there were few Administrative Professionals available to work in all the new businesses that were booming because of the war, as America was coming off the Great Depression which not only greatly affected the economy, but also caused a decline in birthrates.
So, the National Secretaries Association was founded in 1942, as a way to recruit people to administrative roles in business, by highlighting the importance of that kind of role in the workplace, and promising support and training to the new administrative professionals. Eventually, as the roles of Administrative Professionals evolved, the organization changed name twice, in 1981 and 1998, first to Professional Secretaries Association and then to International Association of Administrative Professionals, as it remains until today. These changes reflected how the responsibilities and tasks of the job grew in importance and became essential to businesses around the world. Indeed, the association grew internationally and dedicates itself to providing training and educating employees to excellent standards who then go on to work in the global community.
In 1952 the United States Department of Commerce organized the first National Secretaries Week, with National Secretaries Day falling on Wednesday. Since 2000 the names for the celebration have changed to Administrative Professionals Week and Day to encompass all the job titles that fall into the administrative roles, as well as reflect the growing responsibilities that those jobs entail.
How to celebrate
This day is celebrated in offices and workplaces around America, and employers usually organize events and activities that aim to show appreciation for the role of the Administrative Professionals who keep the workplace running.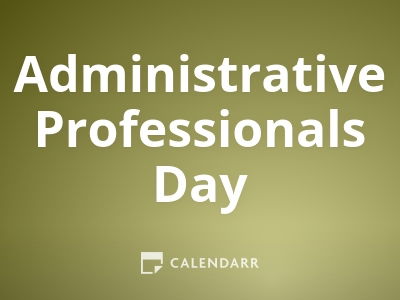 Other Celebrations
National IT Professionals Day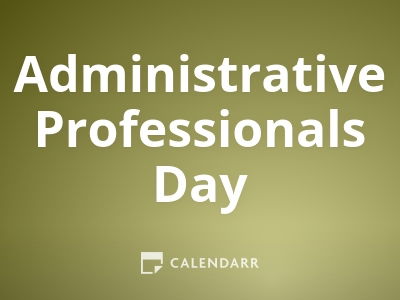 Administrative Professionals Day - Next years
Wednesday, 20 April 2022
Wednesday, 19 April 2023
Wednesday, 17 April 2024
2021 Calendars