World Press Freedom Day
Next

World Press Freedom Day
Monday, 3 May 2021
Every year on May 3rd we celebrate World Press Freedom Day, also known as World Press Day. This United Nations holiday commemorates the freedom of the press, raises awareness about how important it is, and reminds governments of their duty to uphold the human right to freedom of expression. Many journalists and media professionals risk their lives and their freedom during their careers in pursuit of their stories, as some countries still put their journalists in jail to stop them from releasing certain information to the public. World Press Freedom day aims to put an end to that and to honor those who have lost their lives because of their profession.
History of World Press Freedom Day
The freedom of the press and freedom of expression were established as fundamental human rights in Article 19 of the Universal Declaration of Human Rights, adopted in 1948. The freedom of the press has since been a concern of many journalists and governments, and in 1976 a group of independent journalists founded the World Press Freedom Committee.
In 1991, the Seminar on Promoting an Independent and Pluralistic African Press took place in Namibia, where the Windhoek Declaration on Promoting Independent and Pluralistic Media was adopted. This declaration called for the establishment of an independent and free press, to help in the development of a national democracy. It was this declaration that led to the proclamation of World Press Freedom Day during the UN General Assembly in 1993. This day is celebrated on May 3rd, to mark the anniversary of the Windhoek Declaration.
As this is a United Nations observance, every year a different theme is celebrated for World Press Freedom Day. Some themes have included:
1998 - "Press Freedom is a Cornerstone of Human Rights."
2010 - "Freedom of information: the right to know".
2017 - "Critical Minds for Critical Times: Media's role in advancing peaceful, just and inclusive societies".
2020 - "Journalism without Fear or Favour"
The theme for 2021 will be "Information as a Public Good".
Why is World Press Freedom Day Celebrated?
In some countries around the world, publications are still censored and suspended for reporting on the news, and journalists are constantly harassed, arrested, and attacked when investigating and reporting on the stories they pursue. Governments deny the press their right to freedom of expression, and deny their people access to information. This day reminds governments of their duty to respect the freedom of the press, and helps the UN access the state of press freedom in certain countries.
World Press Freedom Day also opens up a conversation among journalists and media professionals about ethics and issues of press freedom and provides support to news channels that have been abolished or censored by their governments.
At the same time, this day is an opportunity to pay tribute to all of those who risked or lost their lives while doing their job, and trying to bring information to people.
How to Celebrate World Press Freedom Day
There are several events happening around the world to commemorate this day, organized by the UN, communities, individuals, and organizations, such as conferences, seminars, exhibitions, speeches, and award nights. You can attend the United Nations annual event virtually, as they stream it online.
You can celebrate this day by supporting your local newspapers, learning more about the issues of press freedom, and being an advocate for the freedom of expression.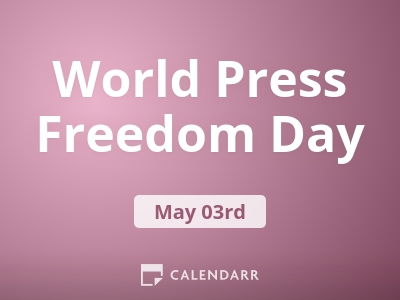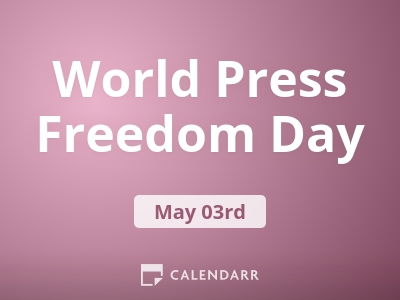 World Press Freedom Day - Next years
Tuesday, 03 May 2022
Wednesday, 03 May 2023
Friday, 03 May 2024
2021 Calendars