America Recycles Day
Next

America Recycles Day
Monday, 15 November 2021
America Recycles Day, also known as National Recycling Day, is observed every year on November 15. The day raises awareness about the importance of recycling and the positive impact that it has on the world and the environment. It also encourages people to buy more products made of recycled materials to avoid waste.
Background
America Recycles Day was established in 1997 by the National Recycling Coalition. The day is sponsored by the United States Environmental Protection Agency (EPA) who educates people on the benefits of recycling and offers many learning resources about the matter. Every year the President of the United States is expected to issue a proclamation on November 15 encouraging people to recycle. In 2009, America Recycles day was adopted into the Keep America Beautiful Campaign.
Recycling was first introduced in 1971 in Oregon, who passed a beverage container deposit law. Many states followed during the 1970s and 80s with recycling programs, but Americans did not start seriously recycling until recent years, influenced by the many campaigns and information about the benefits of recycling and how it protects the environment. For example, in the 1960s the volume of recycling in the United States was at 7% and in recent years it has been around 35%.
Recycling has many benefits apart from reducing waste and saving the planet.
It conserves natural resources and saves energy.
It helps create more jobs for Americans, with the increase of the recycling industry.
It increases economic security for the country, as it produces a domestic source of new materials.
It prevents pollution.
How to celebrate America Recycles Day
There are many Recycling events around the country for America Recycles Day, check locally to see if any are happening around you.
However, America Recycles Day starts at home, and this is the perfect day to reflect on and improve your recycling habits. You can also educate your family and friends about recycling and encourage them to start doing it, it couldn't be more simple!
Know that you can recycle cardboard, paper, beverage and food cans, glass bottles and jars, plastic bottles and caps, plastic bags, textiles and even electronics! All of these can have a new lease of life and be re-purposed if they are recycled.
If you are really committed to recycling, consider buying more secondhand products such as clothes, furniture, replacement parts, electronics... not only are you saving money, you are also stopping landfills from being overfilled with waste.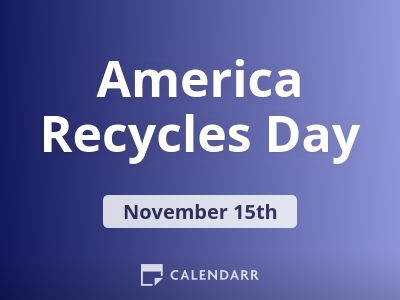 Other Celebrations
Future Teachers of America Day

National Wreaths Across America Day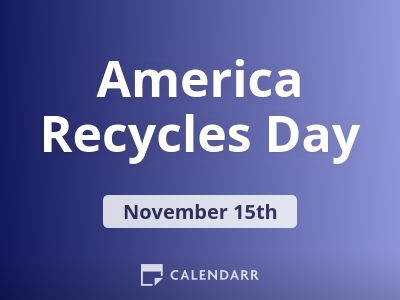 America Recycles Day - Next years
Tuesday, 15 November 2022
Wednesday, 15 November 2023
Friday, 15 November 2024
2021 Calendars