Read Across America
Next

Read Across America
Wednesday, 2 March 2022
National Read Across America Day is celebrated every year on March 2nd, which is also the birthday of American author Dr. Seuss. This is a day dedicated to encouraging children and young people to read, and motivating parents and teachers to help them do so. The day was created and is hosted annually by the National Education Association.
History of Read Across America
The idea of a special day to celebrate reading in the United States first came from a group of people at the National Education Association in 1997. They felt that it was important to instill the joys of reading in the young people of America, and make it a fun activity for them, instead of a chore. The idea gained traction, and the first Read Across America Day was then celebrated on March 2, 1998. It became a popular day among schools and libraries, and it has been commemorated every year since then.
Reading has also been proven to help young people improve their performance in school, which is why parents and teachers are also encouraged to participate on the day, by taking children to literary events or hosting special reading activities in class.
Why March 2nd?
This day was chosen to host Read Across America Day because it was the birthday of the famous author, Theodore Seuss Geisel, better known as Dr. Seuss. Dr. Seuss was also a poet and cartoonist and his famous works include Green Eggs and Ham and The Cat in the Hat.
Read Across America Activities
Many schools, libraries, and hospitals will have special events happening on this day, such as group readings, or inviting authors to come and read their books to children.
Young people are incentivized to make reading pledges, where they commit to reading a certain amount of books in the year, for special prizes. Schools will also host book fairs or have mobile libraries come around so students can pick new books to read.
The National Education Association has a website with resources to help teachers organize reading activities in their classrooms. Some schools choose to take it a step further and have Read Across America Week.
Ideas of books to read
Schools often have lists of books to read for each age bracket, that they believe will initiate a love for reading in their students, these are some of them.
Alice's Adventures in Wonderland by Lewis Carroll
The Very Hungry Caterpillar by Eric Carle
Coraline by Neil Gaiman
The Harry Potter series by J.K. Rowling
The Diary of a Young Girl by Anne Frank
To Kill a Mockingbird by Harper Lee
The Catcher in the Rye by J.D. Salinger
Of Mice and Men by John Steinbeck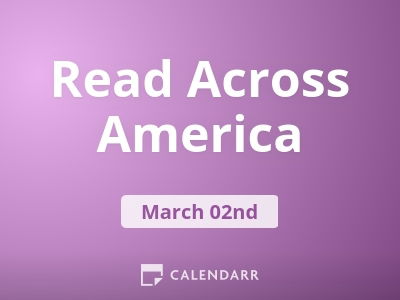 Other Celebrations
International Read to Me Day

Future Teachers of America Day

National Wreaths Across America Day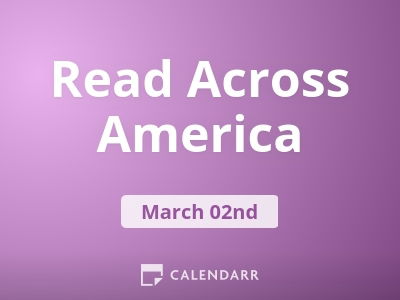 Read Across America - Next years
Thursday, 02 March 2023
Saturday, 02 March 2024
Sunday, 02 March 2025
2021 Calendars