Casimir Pulaski Day
Next

Casimir Pulaski Day
Monday, 7 March 2022
Casimir Pulaski Day is a legal holiday in Illinois, celebrated on the first Monday of March. Businesses and schools remain open and follow normal working hours.
The holiday commemorates the birth of Casimir Pulaski, a Polish Born soldier that was essential to the United States' victory during the Revolutionary War for independence. He is known as "the father of American Cavalry".
Who Was Casimir Pulaski?
Born Kazimierz Pulaski in Waka, Poland, on March 4, 1747, Pulaski followed his father's footsteps and became a military commander, aiding the Polish Army against Russian rule. During his battles, he gained a noble reputation as a skilled soldier. However, after being accused of plotting to kill the King, he was forced to exile and immigrated to America, at the recommendation of Benjamin Franklin, to help the American army during the Revolution.
He joined George Washington's army, and after a victory against the British during the Battle of Brandywine in 1777, was promoted to commander of the cavalry. After, he lead his cavalry to successfully break the British siege in South Carolina and was sent on a rally with French Allies. However, the French were losing on the battlefield, and after joining the battle to encourage the soldiers, he was hit and killed by a cannonball.
Casimir Pulaski died on October 11, 1779, and was buried at sea.
He was granted honorary US Citizenship by the Congress in 2009, an order that was signed by President Barack Obama.
Why is Casimir Pulaski Day a holiday in Illinois?
The 19th century saw a big wave of Polish immigrants arriving every month to the city of Chicago. Thousands of citizens were coming into the country every year and faced discrimination by Americans.
In the 1930s, the Polish immigrants began using Pulaski as a symbol of heroism, who was essential in helping the American Revolution, in an attempt to change the image of the Polish population in the eyes of American citizens.
The Polish American Congress successfully lobbied for a day to celebrate Casimir Pulaski, and on September 13 1977, the state of Illinois passed a law that created an observance to commemorate the birthday of Pulaski. The first official celebration of Casimir Pulaski day took place the following year, 1978.
It wasn't until 1985 that Casimir Pulaski Day became a public holiday, although as of 2012 schools in Chicago no longer observe this day or have the day off. The city of Chicago commemorated the first Pulaski Day in 1986.
Celebrating Casimir Pulaski Day
The Polish population in Illinois celebrate Pulaski day by throwing public ceremonies and parades, as well as holding commemorative fairs.
Most schools will dedicate their classes to learning about the life and accomplishments of Casimir Pulaski.
Casimir Pulaski Day has recently gained notoriety because of a Sufjan Stevens song with the same name. In the song, the lyrics talk about one of the musician's friend's death that happened on this holiday.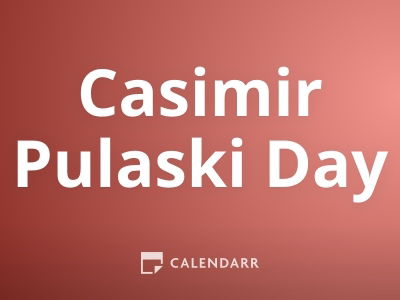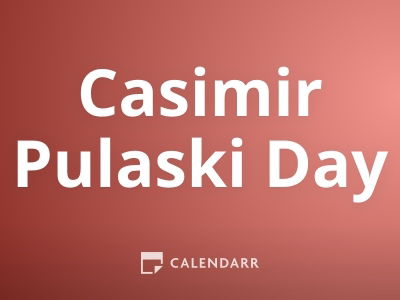 Casimir Pulaski Day - Next years
Monday, 06 March 2023
Monday, 04 March 2024
Monday, 03 March 2025
2021 Calendars