Coast Guard Birthday
Next

Coast Guard Birthday
Wednesday, 4 August 2021
Every year on August 4 the United States Coast Guard celebrates its birthday. The U.S. Coast Guard was founded on this day in 1790 to provide coastal defense, enforce the payment of tariffs and trade laws, and stop smugglers from entering the country through the sea. Since 1790 its duties have only increased, but the Coast Guard has remained as safe-keepers of the United States' coast, making it the oldest continuous maritime service in the country.
The U.S. Coast Guard is a branch of the military and armed forces, and its motto is Semper Paratus or Always Ready. Honor, Respect, and Devotion to Duty are values at the core of the Coast Guard.
History
At the request of Alexander Hamilton, the head of the Revenue-Marine, on August 4, 1790, Congress approved and funded the construction of ten vessels to protect the coast of the United States of America. Until 1798, when the Navy was re-instated, these ten Coast Guard vessels were the only naval force in the U.S.
Early Coast Guard crews' duties included transporting government officials and sometimes they even carried mail.
The Coast Guard as we know it today was formed in 1915 with the merging of the Revenue Cutter Service and the U.S. Life-Saving Service. Eventually, the Coast Guard became so essential in protecting the United States, that it was moved from its original place at the Department of the Treasury to the Department of Homeland Security in 2003, in order to aid the United States efforts against terrorist attacks. In times of war, the Coast Guard has occasionally operated as a service of the U.S. Navy.
What does the Coast Guard do?
The U.S. Coast Guard is an essential service of the military, as it has a wide range of duties that go from ensuring that maritime commerce is safe and lawful and that tariffs are paid, to search and rescue missions, oftentimes in bad conditions. They also aid other vessels with navigation, safely returning lost boats to the coast, and help with the environment by making sure that the coast is kept clean. And finally, they perform Port Security, to intercept any illegal migrants from coming into the country, and to stop any human or drug trafficking.
What to do for the Coast Guard Birthday
Some branches of the Coast Guard will host parties and events on this day. Check to see if there are any near you and spend a day learning more about the history of the Coast Guard, and talking to Coast Guardsmen to hear about their exciting experiences firsthand.
If you know any Coast Guard retirees and Veterans spend the day keeping them company, listening to their stories and paying your respects.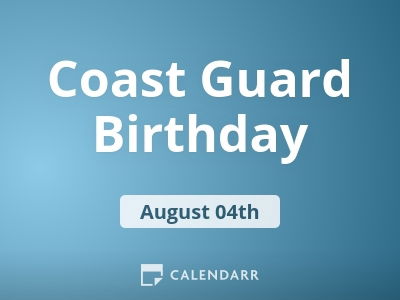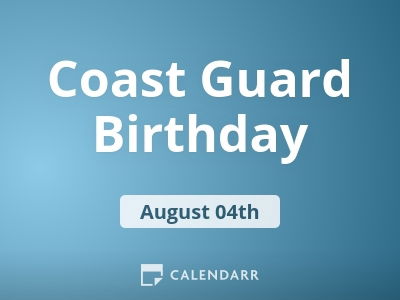 Coast Guard Birthday - Next years
Thursday, 04 August 2022
Friday, 04 August 2023
Sunday, 04 August 2024
2021 Calendars