Marine Corps Birthday
Next

Marine Corps Birthday
Wednesday, 10 November 2021
The Marine Corps Birthday on November 10 commemorates the date when the Continental Marines were established as an Armed Force of the United States, in 1775. This day honors the Marines, who have been defending the country since America was born. The United States Marine Corps motto is "Semper Fidelis".
Marine Corps Birthday is not a public holiday in the United States, so schools and businesses remain open.
Background
Six months before the Declaration of Independence, on November 10, 1775, the Continental Marine Act was passed on the Second Continental Congress, effectively establishing the Continental Marines as the new force to defend the United States. Their main purpose was to provide support for the Continental Navy. The Marines originally counted with 2,100 servicemen and were disbanded after the end of the Revolutionary War.
The force was re-established as the United States Marine Corps on July 11, 1798, and for many years this was the date when the Marine Corps Birthday would be celebrated.
Then, in 1921, General John Lejeune, a Commandant of the Marine Corps, published a reminder of honorable service on the original birth date of the Marine Corps, November 10. This began a yearly tradition within the Marines of re-publishing General Lejeune's reminder to commemorate the establishment of their force. Eventually, the birthday celebration evolved into banquets and balls, becoming a more formal tradition.
The first formal Marine Ball was hosted in 1925 on the 150th birthday of the United States Marine Corps. Later, in 1952, General Lemuel Sheperd Jr. established a new tradition, the cake cutting ceremony. At this ceremony, a birthday cake for the Marine Corps is cut and the first piece is given to the oldest Marine present and the second piece to the youngest one. The Ball and cake ceremony is attended by Veterans and personnel in the Marines.
How to Celebrate Marine Corps Birthday
If you know a Marine or just admire all the brave work they do, don't forget to thank them for their service and wish the Marine Corps a Happy Birthday, on this day. You can also visit the Marine Corps War Memorial.
Apart from the Ball and the Cake Cutting Ceremony, there are also pageants, musical performances, sporting events, and battle reenactments to celebrate the Marine Corps Birthday.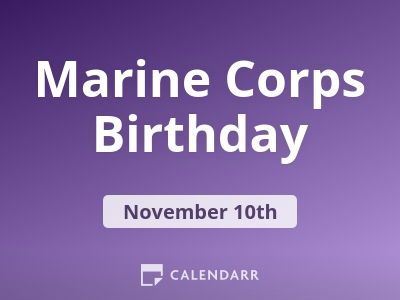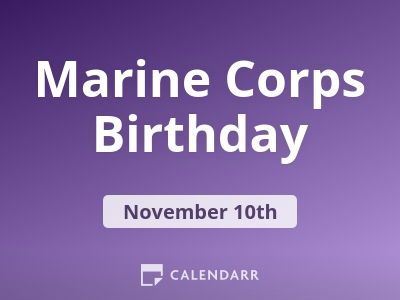 Marine Corps Birthday - Next years
Thursday, 10 November 2022
Friday, 10 November 2023
Sunday, 10 November 2024
2021 Calendars