International Day of Peace
Next

International Day of Peace
Tuesday, 21 September 2021
International Day of Peace, also known as Peace Day, is commemorated every year on September 21. It is a United Nations holiday for the end of war and violence, and the promotion of world peace. It is also a day dedicated to those who promote peace in conflict zones by providing humanitarian aid. On the International Day of Peace, UN countries declare a ceasefire for the day, personally and politically.
Background
In 1981 the United Kingdom and Costa Rica presented a joint resolution proposing a day for the commemoration and strengthening of the ideals of peace, and the United Nations General Assembly declared this day to be International Day of Peace, to be observed on the third Tuesday of September. In 2001, Secretary-General Kofi Annan changed the date of commemoration to September 21. It was also on this year that the International Day of Peace was declared as a day of non-violence and international ceasefire.
The goal of the United Nations with this day is to promote better relationships between countries, and international cooperation towards world peace and the end of war and conflicts. In working towards this goal, on every International Day of Peace, the countries that observe this day declare an official 24-hour ceasefire so that this day can be observed without any kind of conflict, and world leaders put their differences aside to celebrate, as an example to all citizens.
To mark the International Day of Peace, the Peace Bell is rung at the United Nations Headquarters in New York City. The bell was a gift from Japan and is made with coins donated by children from most continents, as a reminder of the human cost of war. The bell is inscribed with "Long live absolute world peace".
As it is common with United Nations observances, the International Day of Peace has a different theme every year. The theme for 2020 is "Shaping Peace Together", and focuses on the world coming together against the common threat that is COVID-19.
What to do on International Day of Peace
There are many International Day of Peace activities and events organized around the world every year. The UN provides a searchable map of events on their website so you can check if there are any near you.
These events can be public or private, such as concerts, dinners, festivals, or prayers, but all of them have the intention of promoting peace between everyone.
Since 1984, through the initiative of the NGO Pathways to Peace, countries around the world observe a Minute of Silence, at noon of each time zone.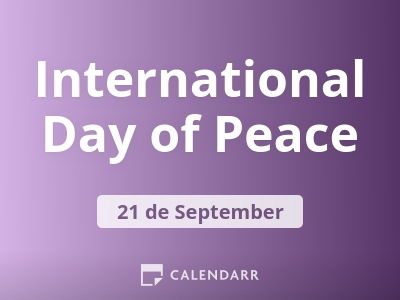 Other Celebrations
International Day of Sport for Development and Peace

World Science Day for Peace and Development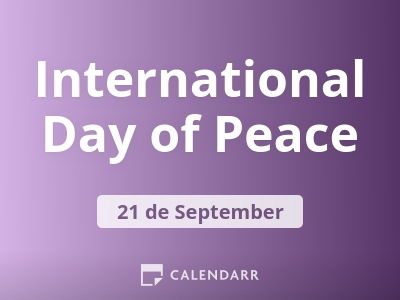 International Day of Peace - Next years
Wednesday, 21 September 2022
Thursday, 21 September 2023
Saturday, 21 September 2024
2021 Calendars