World Gratitude Day
Next

World Gratitude Day
Tuesday, 21 September 2021
September 21 is World Gratitude Day, a day to be thankful for what we have and for the world to come together and celebrate gratitude. Taking the time to step back and think about all of the things that we are grateful for not only makes us humble, it also helps improve our happiness and mental health.
Background
World Gratitude Day is a United Nations holiday. In 1965 a Thanksgiving dinner was held at the meditation center of the United Nations building in Hawaii. There, Sri Chimnoy, a meditation teacher and director of the UN meditation group, suggested creating a special holiday to unify people around the world in gratitude. The people in attendance promised to hold a gratitude meeting in their own country every September 21.
It was only in 1977 that, in recognition of Sri Chimnoy's work, the UN meditation group requested a resolution to make World Gratitude Day official. Since then, World Gratitude Day has been an annual international commemoration.
Being grateful brings people together, if you take the time to thank the people around you for everything they do for you, you will contribute to their happiness. In return, you will feel much happier yourself.
Exercising gratitude has many health benefits, it boosts your mood and reduces stress, which in turn will help you sleep better and improve your immune system. It is also great for your self-esteem, making you feel more confident and opening the door for many opportunities.
There are times when it feels hard to be grateful for anything, so this is the perfect day to stop, take a breath, and think about all the things that make you happy and that you are thankful for in your life. This could be your family and friends, your pet, the fact that you have food in the cupboard and a roof over your head, your good health, and even the beautiful nature that is around you. Stop and look around at all the beauty that surrounds you.
How to celebrate World Gratitude Day
Celebrating World Gratitude Day is as easy as looking around you and finding a number of things that you are grateful for. It is also a great time to start a routine of writing down five things that happened in your day that you are thankful for before you go to bed.
Tell the people in your life how much you appreciate them, but also don't forget to thank yourself for all your good qualities. Self-care is very important on World Gratitude Day.
You can also take the time today to help those less fortunate than you, and be the thing that they are grateful for.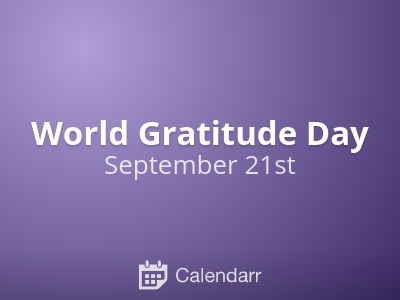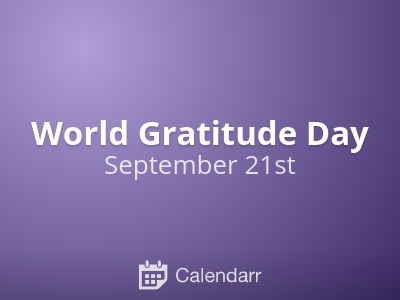 World Gratitude Day - Next years
Wednesday, 21 September 2022
Thursday, 21 September 2023
Saturday, 21 September 2024
2021 Calendars