Kamehameha Day
Next

Kamehameha Day
Friday, 11 June 2021
Kamehameha Day, also known as King Kamehameha I Day, is a Hawaiian holiday, commemorated every year on June 11. This day honors Kamehameha the Great, the beloved monarch who became notorious for uniting the Kingdom of Hawaii.
June 11 is a public holiday in Hawaii, businesses and schools are closed.
History
Kamehameha I, later dubbed Kamehameha the Great, was the first ruler of Hawaii from 1782 until 1819, when he died. He is notorious for establishing the Kingdom of Hawaii, as well as being a pioneer in introducing human rights laws during war times, in what became known as the Law of the Splintered Paddle. Because he was a fair leader and a great diplomat, Kamehameha I got the nickname of the Napoleon of the Pacific.
A beloved leader to this day, a statue of King Kamehameha I stands in Honolulu, with two replicas housed at the Emancipation Hall in Washington, D.C. and on the island of Hilo.
Background
The grandson of Kamehameha I, Kamehameha V, first proclaimed June 11 to be Kamehameha Day in 1871. The first celebration of the day took place the next year on June 11, 1872. On this first observance of the holiday, festivities included races, carnivals, and fairs.
When Hawaii officially became a U.S. State, in 1959, Kamehameha Day was one of the first holidays to be proclaimed by the Hawaii State Legislature.
Festivities and Traditions
To honor Kamehameha I, a floral parade takes place every year across Hawaii. The parade includes marching bands and floats decorated with flowers from each Hawaiian island. The most famous feature of the floral parade are the royal pa'u riders, a representation of 19th-century royal courts, comprising a queen who leads the parade on horseback followed by eight princesses, each representing the major islands of Hawaii, who are accompanied by pa'u ladies dressed in colorful gowns with leis. The parade is followed by parties with food and music.
In 1901, the most significant ritual of Kamehameha Day celebrations was born - the draping ceremony. The ceremony consists of the statue of Kamehameha I in Honolulu being draped in leis. A similar ceremony happens with the statue of the leader in the Capitol.
There is also a King Kamehameha Hula Competition that attracts hula competitors from all over the world.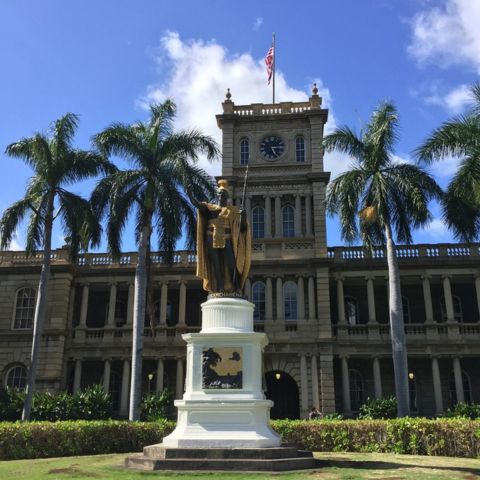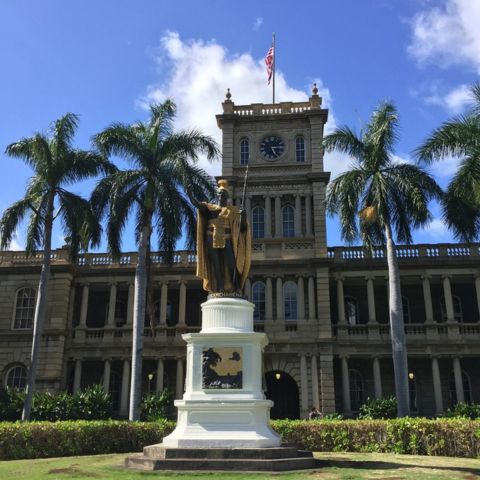 Kamehameha Day - Next years
Saturday, 11 June 2022
Sunday, 11 June 2023
Tuesday, 11 June 2024
2021 Calendars