Leif Erikson Day
Next

Leif Erikson Day
Saturday, 9 October 2021
Leif Erikson Day is commemorated every year on October 9. This holiday is in honor of Norwegian explorer Leif Erikson, who is credited for bringing the first Nordic European people into continental America around the year 1000. This day also celebrates the wonders of discovery and brings light to the Nordic population of America. The holiday is often overshadowed by Columbus Day.
Leif Erikson Day is not a federal holiday, so schools and businesses remain open.
History
Leif Erikson is thought to have been born around 970CE in Iceland. His father was responsible for founding two settlements in Greenland, and Erikson is said to be a direct descendant of the man that discovered Iceland. In 999CE Erikson moved to Norway, where he converted to Christianity and had the mission of going back to Greenland in order to introduce the religion there. However during his journey to Greenland, hundreds of years before Columbus, Leif Erikson lost his course and instead came across a territory which he named Vinland. Years later, that continent would become North America.
He built a settlement there for the winter, but eventually returned to Norway, bringing grapes and timber back in his ship. After his death, other Norwegian explorers made their way to Vinland, even making contact with the indigenous populations in the land. Eventually, word of Vinland spread across Europe, and some believe that it was this way that Christopher Columbus first found out about America.
Leif Erikson Day
The belief that it was Leif Erikson and not Columbus who discovered America spread across the country in 1874 when Rasmus B. Anderson wrote a book that explained that Vikings were the first European people to arrive at the new continent. Years later, in 1925, at the Norse-American Centennial, President Calvin Coolidge recognized Leif Erikson as the true discoverer of America, after new research by Norwegian-American historians.
Leif Erikson Day was first adopted as a state holiday by Wisconsin in 1929, and Minnesota quickly followed in the footsteps, declaring it an official holiday in the state in 1931. In 1956, Leif Erikson day was observed in seven American states and one Canadian province.
In 1963, a bill was introduced by a senator and a representative from Minnesota, with the intention of making Leif Erikson Day into a nationwide holiday. The bill was approved in 1964, when Congress determined that the President was authorized to declare October 9 Leif Erikson Day through an official annual proclamation. The first president to do so was Lyndon B. Johnson in 1964, and every president since has followed in his footsteps.
Leif Erikson Day is commemorated on October 9 in honor of the ship Restauration, which arrived in New York on October 9, 1825, from Noway. This marked the beginning of organized immigration from Norway to the United States.
The day gained popularity with the general public after SpongeBob SquarePants displayed his love for Leif Erikson Day on the TV show's episode "Bubble Buddy".
How to celebrate Leif Erikson Day
If, like many others, you were not aware of Leif Erikson and the Norwegian people's contribution to the discovery of America, this is the perfect day to become more informed about the explorer's history. There are several resources to learn more about Erikson's life online, but also biographies and even manga books.
There are several Norwegian museums around the country that display and commemorate Nordic contributions in the United States. Check if there's one near you and make a day trip to learn more about Norwegian heritage and Viking culture.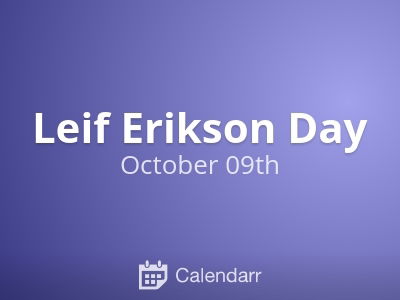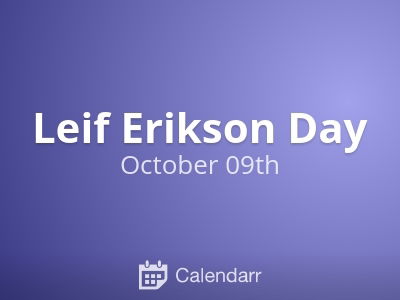 Leif Erikson Day - Next years
Sunday, 09 October 2022
Monday, 09 October 2023
Wednesday, 09 October 2024
2021 Calendars