National Bartender Day
Next

National Bartender Day
Friday, 3 December 2021
The first Friday in December is National Bartender Day, also known as Bartender Appreciation Day. A bartender's job is not only serving drinks, they also listen to their customers, joke around, and a lot of times they provide good advice or a shoulder to cry on. Bartenders also have to keep an eye on customers to make sure everyone is safe and behaving. It is definitely not an easy job, and it takes someone special to do it, so it's no surprise that Bartenders have a special day to celebrate them.
Background
National Bartender Day was created in 2011 by the spirits brand Sailor Jerry, who thought that Bartenders in America deserved to have a glass raised in their honor. They have also been petitioning for this to be a day off for Bartenders.
Sailor Jerry's aim is to make people realize that Bartenders do much more than mix and pour drinks, their job has also evolved to be a kind of therapist. Customers often feel safe talking to their bartender, as they feel that they have someone who cares about their problems. At the same time, bartenders often also have the job of protecting people who come up to them at the bar because they want to get away from an unsafe situation.
There are also competitions organized by Sailor Jerry for National Bartender Day where people can vote to elect the best bartender in America. The brand also visits bars across the country to give barmen and women free food and a taxi ride home.
To be a bartender you have to have many skills. Bartenders are friendly and good and communicating, but also have to know when to be firm if a client needs to be cut off or kicked out of the bar. They also have to have a good memory to be able to remember every cocktail recipe that someone might come in and order.
How to Celebrate National Bartender Day
All that this day requires to be celebrated is that you show some appreciation for the bartenders in your life. You can pay your favorite bartender a visit and have a conversation with them where you're the one providing a friendly ear and listen to their frustrations instead. In the end, don't forget to leave them a very generous tip to thank them for their amazing service.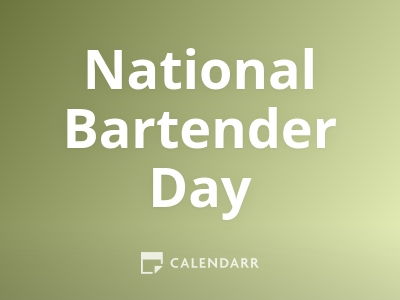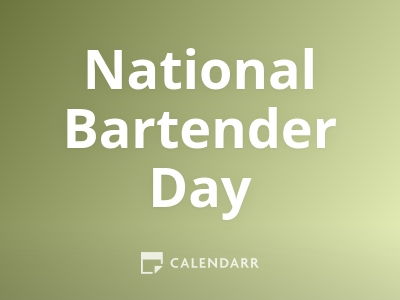 National Bartender Day - Next years
Friday, 02 December 2022
Friday, 01 December 2023
Friday, 06 December 2024
2021 Calendars