National Bowling Day
Next

National Bowling Day
Saturday, 14 August 2021
The second Saturday in August is National Bowling Day, a holiday to commemorate one of America's classic sports. Everybody loves bowling because it is such an inclusive sport. People of all ages can play it, as well as people with disabilities. So its no wonder that over 100 million people worldwide love the game. The purpose of this holiday is to get more people interested in the sport, so grab some bowling shoes, put on a bowling shirt, and go hit the pins with your friends at the local bowling alley!
Background
In 1956 the Bowling Proprietors' Association of America organized the first National Bowling Day. Millions of bowlers got together, in hundreds of tournaments across 48 states, and helped raise money for the American Red Cross. The final of the National Bowling Day tournament was televised and counted with the presence of famous bowlers.
Even though this was a one-off event, the interest that the first National Bowling Day gathered was so big that people kept celebrating the day. The holiday is still tied to charity, and events such as the Million Pin Challenge have been held on National Bowling Day.
History of Bowling
Bowling derives from centuries-old sports. Wall drawings and artifacts of a game with pins and balls that resemble bowling have been found in tombs and excavations that date back to 5200 B.C. In Roman times too, there was a game that consisted of throwing stone objects as close as possible to other objects, a game that evolved into what we now know as Bocce.
The modern game of Bowling as we know it probably derives from a German game called Kegels. Players would roll stones trying to knock down the Kegels at the end of an alley, and believed that if they knocked the Kegels down their sins would be forgiven.
Bowling was first played with nine pins, but laws were made against nine-pin bowling because of gambling, so people added one more pin to the game to bend the rules, in 1841. The game has remained with ten-pins ever since. Bowling used to be played with wooden balls, but in 1905 the rubber compound bowling balls that we know today were first introduced.
What to do on National Bowling Day
Many bowling alleys offer free games on National Bowling Day, so it is the perfect opportunity to try and get some strikes with your friends. If you are a real bowling aficionado, get a team together, and participate in a tournament near you.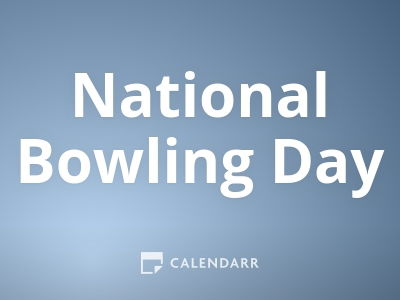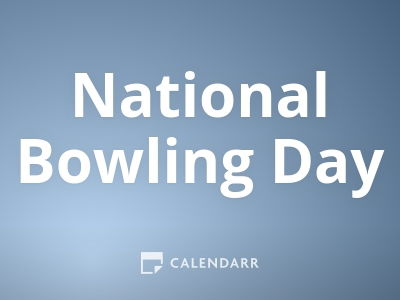 National Bowling Day - Next years
Saturday, 13 August 2022
Saturday, 12 August 2023
Saturday, 10 August 2024
2021 Calendars