National Brownie Day
Next

National Brownie Day
Wednesday, 8 December 2021
On December 8 we celebrate the perfect cross between a cake and a cookie, it is National Brownie Day! No one can resist the gooey decadence of a Brownie, whether it is a chocolate one or a blondie. With endless recipes and variations, there is a Brownie for everyone. So, on this day, allow yourself to indulge in this delicious dessert, homemade or bought from your favorite bakery.
National Brownie Day is an unofficial holiday in the United States, but some businesses offer some deals for free Brownies. Check your local bakeries and treat yourself!
Background
The origins of National Brownie Day are unknown, but it is very likely that it was created by a Brownie lover, who realized that this much-loved dessert needed a whole day to be celebrated.
Not only are Brownies delicious, but they are also very simple to make! Everyone has their favorite Brownie recipe, whether it has been passed down through generations, or they just found it on the internet.
It is known that Brownies have been around in America since the 20th century, however, no one can agree on how and when they were first created, so there are a few legends about the origins of this chocolatey treat.

Where did the Brownie originate?
One of the most well-known stories about the origin of the Brownie goes all the way back to 1893 in Chicago. Legend says that Bertha Palmer, the wife of the owner of the Palmer House Hotel, asked the hotel's pastry chef to create a cake that would easily fit into a lunchbox, and be suitable for the ladies attending the World's Columbian Exposition in Chicago. The chef baked a dessert with chocolate, walnuts, and an apricot glaze than became known as the Palmer House Brownie, which is still sold today.
Others believe that the Brownie came about because of a baking mishap of a housewife in Maine. The story goes that a lady was trying to bake a chocolate cake, but the cake didn't rise. However, she still decided to serve it and it was a success. The recipe was printed in many cookbooks published in 1904 as "Bangor Brownies", and mentioned in Maria Willet Howard's cookbook in 1907.
However the Brownie was invented one thing is certain: it quickly became one of America's favorite desserts, and many families have their own classic recipe.
How to celebrate National Brownie Day
It couldn't be easier to celebrate this day, just treat yourself to a Brownie!
Get to work and bake your all-time favorite classic Brownie recipe, fudgy and warm. Add some ice-cream to have the full Brownie experience.
Scour the internet for some recipes and try a new one! There are so many things you can add to your Brownies to elevate them: caramel, peanut butter, walnuts, pistachios, raspberries... the possibilities are endless.
Not a fan of baking? Visit your local bakery or coffee shop and just buy a Brownie or two. With luck, you'll come across some great National Brownie Day deals.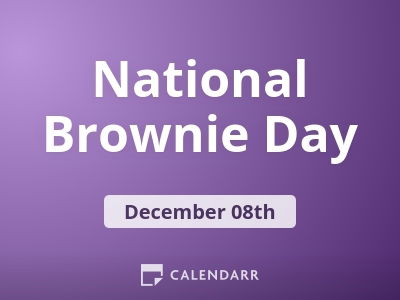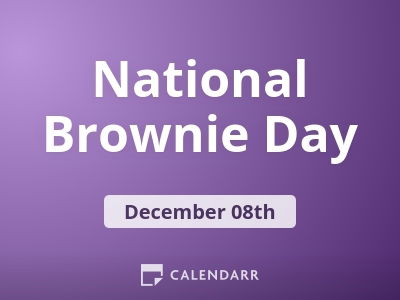 National Brownie Day - Next years
Thursday, 08 December 2022
Friday, 08 December 2023
Sunday, 08 December 2024
2021 Calendars