Employee Appreciation Day
Next

Employee Appreciation Day
Friday, 4 March 2022
Employee Appreciation Day is celebrated on the first Friday in March, and it is a day to recognize employees for their hard work and dedication to their job. It is also a great opportunity to create better relationships between employees and their bosses and companies.
While this is not a public holiday, and businesses and schools are open, many employers choose to give their staff some time off work on this day, to participate in activities with their colleagues.
Why is Employee Appreciation Day Celebrated?
This day is a great day for bosses to show their employees what their strongest abilities are and motivate them with positive reinforcement. It has been proven that this type of attitude in the workplace increases job satisfaction and productivity, as people respond well to being encouraged by their bosses. It is also a great way for companies to retain their most valuable employees.
History of Employee Appreciation Day
This day first appeared in a calendar in 1995. The calendar was published by Workman Publishing, and it is believed that it was their publisher and founder of Recognition Professional International, Bob Nelson, who came up with the idea for this holiday, in an attempt to get employers to realize the importance of keeping their employees satisfied.
Since then, the holiday has gained traction in the United States, with more companies organizing activities on the day.
Ideas on how to celebrate Employee Appreciation Day
There are many ways for companies to show how much they appreciate their staff. One of the most popular ones is treating everyone to a meal out, such as breakfast or lunch, and spend a few hours getting to know the people who work together.
Some employers choose to give some of the day off to their employees, as sometimes flexibility in schedule has been shown to increase productivity. Gifts are also a popular way to show recognition, either in the shape of a gift card, or small upgrades in the office to boost morale.
Some companies organize a day out for everyone, where they play sports, go bowling or have a barbecue, to do some team-building exercises.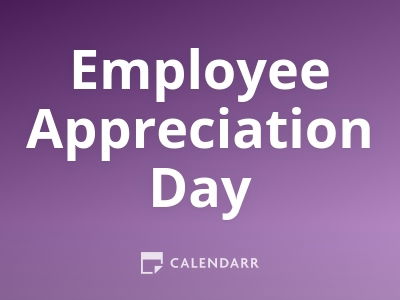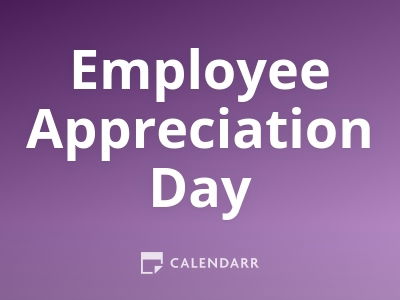 Employee Appreciation Day - Next years
Friday, 03 March 2023
Friday, 01 March 2024
Friday, 07 March 2025
2021 Calendars