National Donor Day
Next

National Donor Day
Monday, 14 February 2022
National Donor Day, also known as National Organ Donor Day, is observed annually on February 14. There are currently around 120,000 Americans on the waitlist for a life-saving organ transplant, National Donor Day raises awareness about this and how signing up to be an organ donor can save so many lives. This is also a day to honor all of the hero donors who have saved so many people by donating their organs, tissues, blood, and marrow. This is known as the ultimate act of love and support for fellow humans in need.
Background
The Saturn Corporation, together with the United Auto Workers, founded National Donor Day in 1998. This was supported by the United States Department of Health and Human Services and other health organizations.
The aim was to encourage people to discuss organ donation and convince them to sign up as blood and organ donors, in order to help the thousands of people in America that are in need of transfusions and transplants.
Most organ donors are dead at the time of donation, but that doesn't mean they're not heroes. By signing up as organ donors, they are ensuring someone at risk can live a long and healthy life. There can also be living donors for things such as blood, marrow, tissue, and some organs. Living donation usually involves extensive testing, including psychological evaluations. As a living donor, you can live with the knowledge that you have saved someone's life. What is better than that?
Depending on age and other factors, a blood donor can donate on average one pint of blood every 53 days. This one pint can save around three people. Provided you meet all the requirements, anyone can register as a blood donor or donate blood at blood drives. As an organ donor, it is possible to save 8 people or heal around 75 lives. And signing up to be a donor couldn't be easier!
How to sign up as an Organ Donor
Signing up as an organ donor couldn't be easier, there are two ways to do it:
When you're applying for or renewing your driver's license tick the "yes" box for organ donation. Alternatively, you can visit the DMV website.
Register as a donor with your state's registry by visiting the Donate Life America website or organdonor.gov.
It is important to note that even if you register as a donor you always have the right to change your mind.
You will be given a donor card, but you don't have to carry it with you all the time as you will be registered with your state. As you are registered, you may be asked to be a living donor if the system finds you are compatible with someone in need of a transplant.
How to Observe National Donor Day
If you have been thinking about registering as an organ donor, National Donor Day is the time to do it. You can also have a conversation with your family and friends to encourage them to register as organ donors too. Let them know about the impact organ donors can have in saving people's lives.
While you're at it, share information about organ donation on social media using the hashtags #SharetheLove and #StarttheConversation.
Join one of the many events taking place around the country on National Donor Day, such as the blood and bone marrow drives, or the Donor Dash, a 5k run/walk that raises funds for organ transplants and honors donors and those who are waiting for transplants.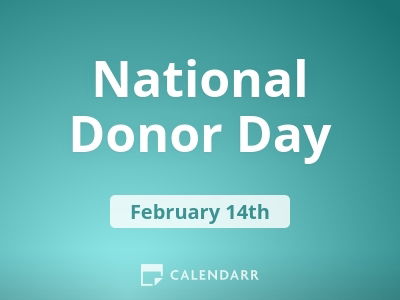 Other Celebrations
National Minority Donor Awareness Day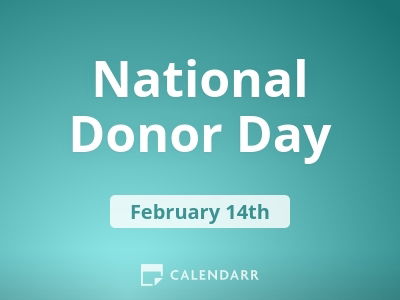 National Donor Day - Next years
Tuesday, 14 February 2023
Wednesday, 14 February 2024
Friday, 14 February 2025
2021 Calendars