National Spouses Day
Next

National Spouses Day
Wednesday, 26 January 2022
National Spouses Day is celebrated on January 26. While similar to Valentine's Day, this holiday is mainly dedicated to married couples and lifelong partners. It is an opportunity for couples to spoil and show their appreciation for each other even after being together for years. Sometimes couples get caught in the busyness of life, jobs, and families, so this day reminds them to stop and take some time for each other, go on a date, talk, and be romantic.
Background
While the exact origins of National Spouses Day are unknown, it was probably inspired by the creation of Military Spouses Day in 1984. The day has since gradually grown in popularity, especially during the last few years, as couples recognize the importance of spending time together more.
The purpose of National Spouses Day is not to shower your spouse with gifts (although a box of chocolates is always appreciated), but rather to spend quality alone time with them, talking about your life and relationship, going on trips down memory lane, and just generally showing how much you still love each other. Studies show that couples who regularly cuddle, hug, and hold hands, stay together for much longer than those who don't, because physical touch releases hormones that make you happier, release stress, and make you feel closer, opening up the channels of communication. National Spouses Day reminds us all of the importance of doing that in a long-term relationship.
As years go by, couples can get swamped by children, more demanding jobs, and chores, so sometimes their relationship takes a backseat. This day is an opportunity to slow down, revitalize relationships, and go back to the good old times.
Fun fact, apparently the happiest year of marriage for most couples is the third year. If you've been together for longer than that, and this fact rings true to you, think back to that year of your relationship to see what you were doing right, and talk to your partner about how to get that spark back.
How to Celebrate National Spouses Day
The best and most obvious way to commemorate this day is by spending time with your partner and show them some love.
You can go on a date to the first place you met, or where you had your first date, or even to where you got engaged. It will give you a chance to think about the beginning of your relationship, and how far you have come since you first met each other. This date can include a romantic candle-lit dinner or even a picnic with food prepared by the two of you.
If you and your partner are homebodies, stay at home for the night (if you have kids, remember to leave them with family first) cook a nice and fancy meal together, listen to some music, watch your favorite movie. The important thing is to spend some time alone, enjoying each other.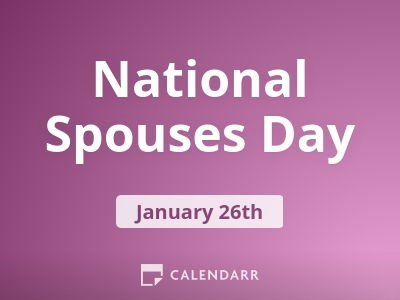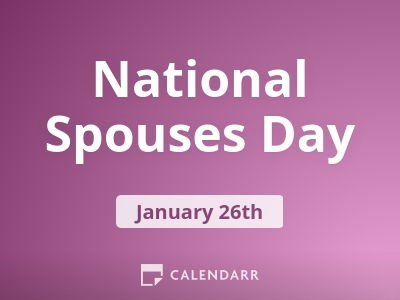 National Spouses Day - Next years
Thursday, 26 January 2023
Friday, 26 January 2024
Sunday, 26 January 2025
2021 Calendars