Husband Appreciation Day
Next

Husband Appreciation Day
Saturday, 17 April 2021
The third Saturday in April is Husband Appreciation Day, a day to shower your husband with love, and thank him for everything he does. Sometimes in marriage, it is easy to get stuck in a rut and forget to appreciate the person that is always by your side. Husband Appreciation Day serves as a reminder to take some time in your day-to-day life to appreciate your husband for his support, his company, and for being a part of your life.
History of Husband Appreciation Day
The origins of Husband Appreciation Day are unknown, as is the name of the person who created it. However, some people believe that it was invented as a counterpart to Father's Day, so that childless husbands could also have a day in their honor, to celebrate all they do for their spouses. Nevertheless, this has become a day dedicated to all husbands for being good husbands, regardless of whether or not they are also fathers.
Long gone are the days when the husband's only role and purpose were to be the breadwinner of the family. Nowadays, husbands have much more equal standing in a marriage, and are much more involved in their household, helping out with chores, cooking, and childcare (if there are children). In modern marriages, the most important role that a husband can have is that of a supporting and loving partner, a best friend that is always there no matter what.
Different couples have different ideas of what a husband should be and do, and with the introduction of same-sex marriage and the abandonment of gender roles, the concept of the husband is something that is interchangeable from relationship to relationship. What matters is that your husband is someone who is right for you and shows you love in the ways that you want, and if this is the case, then Husband Appreciation Day is the perfect opportunity to thank him for that.
Surveys show that the qualities most appreciated in a husband are:
That he is supportive of his partner's goals and dreams.
That he is funny and makes his partner laugh.
That he is loyal and kind.
That he is accepting and their partner can be themselves around him.
That he is smart, ambitious, and a hard worker.
Of course, husbands are only human and there will be little quirks about your husband that annoy you. But this is the day to forget about all that!
How to Celebrate Husband Appreciation Day
You know your husband better than anyone, so you'll know the best way to show him how much you appreciate him on this day. Here are a few ideas to hopefully give him some inspiration.
If your husband's love language is gift-giving then buy him something he has been wanting for a while but wouldn't buy himself. Or, you could give him something that is symbolic of your relationship and brings back good memories.
Does your husband love eating? Take some time to cook him a nice meal with his favorite dish and dessert. If you're not the most skilled in the kitchen, then just take him to his favorite restaurant. They do say the way to a man's heart is through his stomach.
If your husband has a hobby or activity he loves doing, you can offer to do it together today. Go on a hike, join in on a game of basketball, do something crafty together. This is sure to strengthen your bond.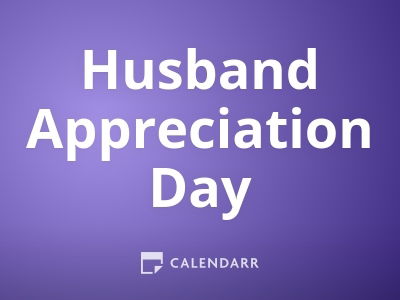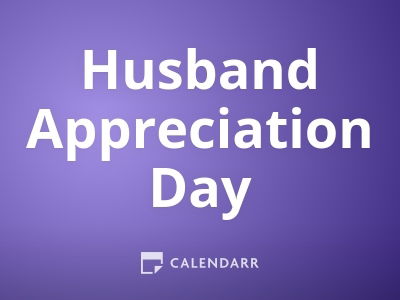 Husband Appreciation Day - Next years
Saturday, 16 April 2022
Saturday, 15 April 2023
Saturday, 20 April 2024
2021 Calendars