National Taco Day
Next

National Taco Day
Wednesday, 4 October 2023
October 4 celebrates one of the nation's favorite foods - it's National Taco Day! Tacos are tortillas that can be filled with anything you want, from beef and chicken, to fish, to vegetables. There is something for everyone, so no wonder they are such a crowd-pleaser. The best thing about this day is that most taco restaurants will have special National Taco Day deals, so you can go enjoy this delicious traditional Mexican dish for a discounted price. Which can only mean one thing: more tacos for you!
Background
This holiday was founded in San Antonio, Texas, the birthplace of the American love for Mexican food. It was created by Roberto L. Gomez, a city council candidate, and columnist for the local newspaper. Gomez and the San Antonio Social Civic Organisation began a tradition of sending traditional Mexican dishes, such as tamales and tacos, to the White House, to remind U.S. presidents of the political power of Mexicans in America.
This tradition paved the way for the founding of the National Taco Council, an organization whose aim was to promote Mexican culture and restaurants in Texas. Thus, the week before Cinco de Mayo was designated in San Antonio as National Taco Week, in 1967. In 1968 National Taco Week was designated as lasting from April 28 to May 4, with the original National Taco Day falling on May 3. Gomez intended for the taco to be as popular in the United States as the hamburger and the hot dog. Mexican food chains quickly adopted this holiday and began doing special National Taco Day deals to attract more customers to try tacos.
In 1974, the holiday was expanded to National Taco Month, promoted by a few large companies, such as Kraft Foods and Pearl Brewing. After Gomez died in 1983, National Taco Day, Week and Month seemingly disappeared from history.
It wasn't until 1989 that food chain Taco Bell revived the holiday, and reinstated National Taco Month.
The current date for National Taco Day was introduced in 2004, and the day started gaining popularity again in 2009, after a Del Taco campaign to celebrate National Taco Day. The day has kept growing until today, with more chains and restaurants joining in on the fun.
How to celebrate National Taco Day
As mentioned, many chains participate in National Taco Day and offer amazing deals. In some places, such as Taco Bell, you can even get a free taco! So look up restaurants around you that may be offering deals on this holiday, visit your favorite one, or take the opportunity to try a new taco place.
If you prefer cooking yourself, have friends over and host a taco party! There are many recipes for corn tortillas on the internet, and you can make as many fillings as you like to please everyone or stick with the traditional carne asada, tomato, cheese, and lettuce.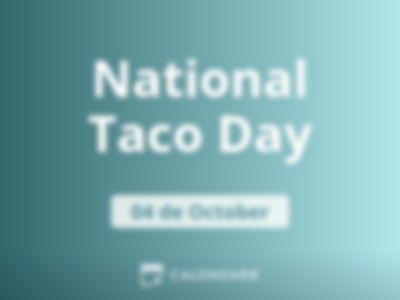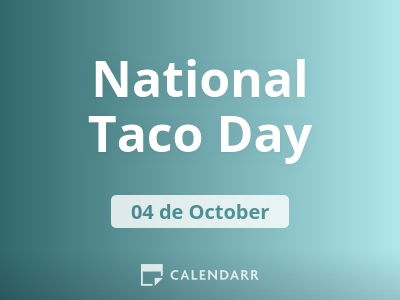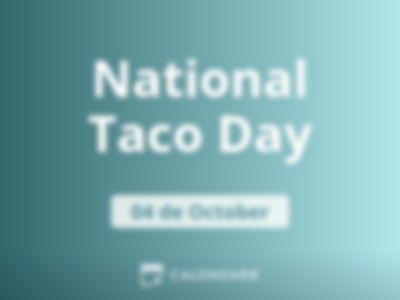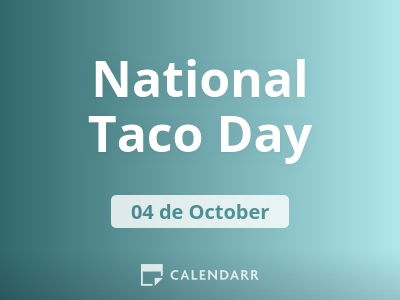 National Taco Day - Next years
Friday, 04 October 2024
Saturday, 04 October 2025
Sunday, 04 October 2026
2022 Calendars