Alaska Day
Next

Alaska Day
Monday, 18 October 2021
Alaska Day is a holiday observed on October 18. It commemorates the transfer of the territory of Alaska from Russia to the United States, as well as the first time that the American flag was flown in Alaska, on October 18, 1867.
The day is a public holiday in Alaska, where schools and businesses are closed and most people have the day off. If October 18 falls on a weekend, then the holiday is observed on the closest weekday.
History
The Russians ruled the territory of Alaska for 68 years, until March 30, 1867, when the United States purchased it for 7.2$ million. However, representatives of the United States did not arrive to Alaska to complete the transfer until October 18, 1867, when the American flag was raised at Fort Sitka. Then, 250 American troops marched to the governor's house where the Russian flag was lowered and replaced with the American flag.
Alaska derives from the word "Alyeska" which means "great land", and it was nicknamed as "the last frontier".
Americans were not happy with the purchase and thought it was a waste of money to pay so much for the Alaskan territory. However, in 1897, gold was found in Klondike, which prompted a gold rush in Alaska, and hundreds of thousands of people eventually moved to what would become the state's capital. In 1898, gold seekers found more gold on the coast of Alaska in Nome.
Alaska also proved to be a crucial territory to own during World War II, when its strategic position was important to station troops to fight during Japan's invasion of the Aleutian Islands.
Alaska earned its status as the 49th state of the United States on January 3, 1959.
Alaskan Natives do not celebrate Alaska Day, as they state that their land was forcefully taken from them, and it never truly belonged to the Russians, and so its sale to the United States was illegal.
How Alaska Day is celebrated
Alaska Day is celebrated in Sitka with a three-day festival that features a costume ball, races, performances such as dances, concerts, and an army band, an army demonstration, the mayor does a proclamation, and people can enjoy tea at the Pioneer's Home.
There is also a re-enactment of the flag-raising ceremony that took place in 1867 when the territory was transferred, as well as a memorial service and parade through the city featuring the armed forces and marching bands.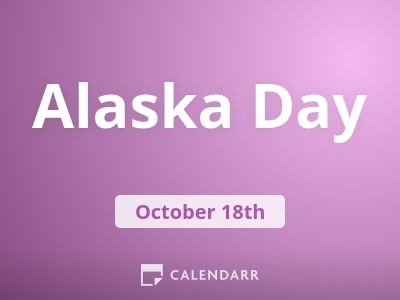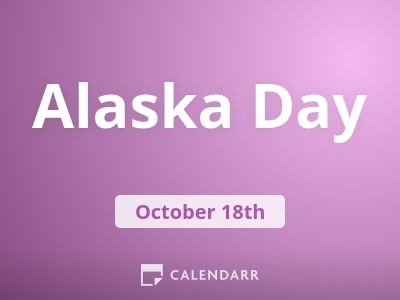 Alaska Day - Next years
Tuesday, 18 October 2022
Wednesday, 18 October 2023
Friday, 18 October 2024
2021 Calendars