National Pasta Day
Next

National Pasta Day
Sunday, 17 October 2021
Mangiamo! October 17 is National Pasta Day. Pasta comes in hundreds of different shapes and can be cooked in so many different ways, that it is difficult to find someone who doesn't love this Italian delicacy. A great source of delicious carbohydrates and nutrients, pasta is one of the world's favorite comfort foods. So whether you are a fan of fettuccine Alfredo, prefer the meaty spaghetti bolognese, can't say no to a lasagna, or are more of filled tortellini, this is the perfect day to indulge in your favorite pasta dish!
Pasta is so popular in fact, that the whole month of October is unofficially known as Pasta Month! And while October 17 is National Pasta Day, on October 25 we celebrate World Pasta Day.
Background
Many historians credit Marco Polo with bringing Pasta to Italy, after discovering it on his travels to China in 1271. However, there are records of pasta already existing in Italy way before Marco Polo returned from the Far East. For example, in 1279 a.d. Italian Ponzio Bastone wrote a will where he bequeathed his heirs with a bin filled with macaroni. Also, Romans in ancient times were already making a kind of pasta, or dough, with flour and water.
In the United States, it was Thomas Jefferson who introduced pasta to Americans. While on a stint in Europe as the American Ambassador to France, Jefferson is thought to have visited Naples, where he tried pasta for the first time. When he returned to America in 1789, he brought crates of macaroni and a pasta-making machine with him. However, pasta did not become widely available in the United States until the 19th century, when a surge of Italian immigrants arrived in America, bringing and commercializing dried pasta, turning it into a staple food in every American household.
Pasta is so popular because it can be quickly made with any staples you have in your pantry, such as olive oil, onion, garlic, basil, and tomato, for a quick and easy sauce. Because it is such a neutral ingredient, pasta can be had with almost anything you can think of, so you can let your imagination fly while cooking pasta: add some meat, fish or seafood, vegetables, cream, cheese... the possibilities are endless.
Pasta is also the best family meal because it can be made in large quantities, and it is so comforting that it brings people together.
How to celebrate National Pasta Day
Pasta is always enjoyed best when it is homemade and shared with others. On this day, invite friends and family over and make your favorite pasta dish, or look at the many recipes online for a new pasta to try.
If you are a real pasta lover, this is the perfect time to get yourself a pasta making machine and make your own fresh pasta. You won't regret it!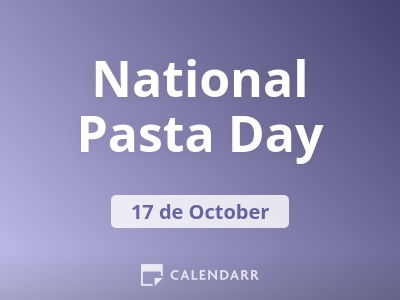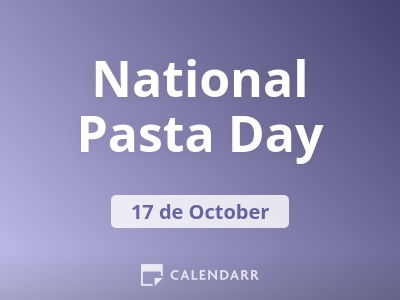 National Pasta Day - Next years
Monday, 17 October 2022
Tuesday, 17 October 2023
Thursday, 17 October 2024
2021 Calendars