Emancipation Day
Next

Emancipation Day
Friday, 16 April 2021
Emancipation day on April 16 is a public holiday in Washington DC. It commemorates the day when, in 1862, President Abraham Lincoln signed the Compensated Emancipation Act, which effectively abolished slavery in the District of Columbia. Slavery in other parts of the United States only came to an end in 1865.
It is a holiday in Washington DC, and as such, it is a day off for most people, as businesses and schools close for the day.
History
After arriving in what would become the United States of America, European settlers began trafficking and selling people, mostly of African descent, for slavery. By 1860 there were around 4 million slaves in the United States.
Firmly against the evils of slavery, then President Abraham Lincoln signed the District of Columbia Compensated Emancipation Act on April 16, 1862, freeing around 3100 slaves living in Washington DC. This constituted the only example of compensation of former slave owners by the government.
It was not until nine months later that Lincoln issued the Emancipation Proclamation, which changed the status of over 3.5 million slaves in 10 confederate states from slave to free.
Official Abolishment of Slavery
Only after the end of the American Civil War, in 1865, was slavery truly abolished all over the United States. It was with the introduction of the 13th amendment to the United States Constitution on January 31, 1865, ratified by 30 out of 36 states in December of the same year that slavery was formally abolished, effectively freeing the 4 million men, women, and children that were slaves in America.

Observance of Emancipation Day
On January 4, 2005, Mayor Anthony A. Williams of Washington DC signed a law that made Emancipation Day a public holiday to be celebrated on the date of the anniversary of the Compensated Emancipation Act.
If April 16 falls on a weekend, the holiday is observed on the closest following weekday.
How Emancipation Day is Commemorated
To celebrate, the city of Washington DC hosts events throughout the whole month of April. There are exhibitions, public talks, memorials, and concerts. These activities aim to educate people, not only about the history of the District of Columbia but mostly to bring awareness to the history of slavery and how its repercussions are still felt in modern day America.
On Pennsylvania Avenue, there is a big parade with military marching bands and a display of fireworks at the end.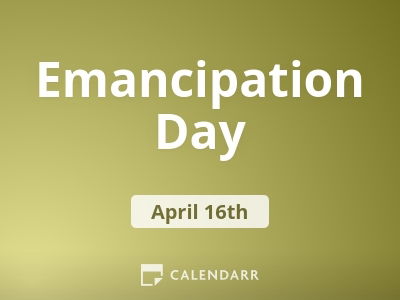 Other Celebrations
Emancipation Proclamation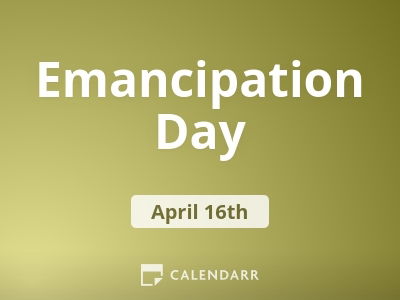 Emancipation Day - Next years
Saturday, 16 April 2022
Sunday, 16 April 2023
Tuesday, 16 April 2024
2021 Calendars