Hobbit Day
Next

Hobbit Day
Wednesday, 22 September 2021
September 22 is Hobbit Day! Hobbits are fictional characters created by writer J.R.R. Tolkien for his Middle Earth Cycle Books, better known as The Hobbit and Lord of the Rings. Hobbit Day is commemorated on the birthday of Frodo and Bilbo Baggins, two hobbits, and the heroes of each of Tolkien's books. Hobbits are celebrated on this day for their immeasurable courage and the great feats that they achieve.
Fans of Tolkien gather on this day and throw great celebrations that combine the best of other holidays. There is dressing up in costumes, feasts, gifts and greeting cards, picnics, and fireworks. It is meant to be a commemoration as merry and indulgent as Hobbits are.
Background
Hobbit Day was created alongside Tolkien Week by the American Tolkien Society in 1978, to honor Tolkien's great legacy. The holiday remains unofficial, but many American elected officials have declared their support for the observance of this day.
The Hobbit was first published in September of 1937 and received critical praise all over. It has remained a classic up to this day, as has the Lord of the Rings trilogy, which was published between 1937 and 1949. All four books have been made into huge box office hits, which have allowed Tolkien's stories and characters to reach a much wider, and younger, audience.
Hobbits have won the hearts of Tolkien fans all around the world, and are a great role model for children because of their many positive characteristics. Hobbits are extremely loyal creatures, and nothing is more important to them than love and friendship, as shown by Frodo's lifelong friend Samwise Gamgee. Despite their small stature (standing between two to four feet tall) Hobbits are great adventurers, and never shy away from a challenge, proving to be a crucial element in the quests of Middle Earth. Above all, Hobbits are fundamentally good creatures that believe that kindness will always prevail, which allows them to always stay positive in the face of adversity.
How to celebrate Hobbit Day
As evidenced by Bilbo Baggins's birthday party in the beginning of The Fellowship of the Ring, Hobbit parties are large events filled with food, joy, dancing, and fireworks.
Tolkien fans try to recreate this environment when celebrating Hobbit Day, by throwing great feasts (often with seven meals) and sharing the joy and merriment of being with people that have the same interests. In honor of the Hobbits' favorite choice of footwear, many fans also spend this day barefoot.
Many places also organize marathon viewings of the movies and literary discussions of the books on this day, where everyone can join.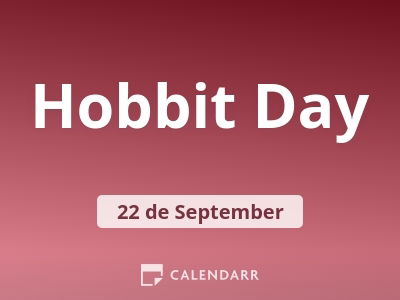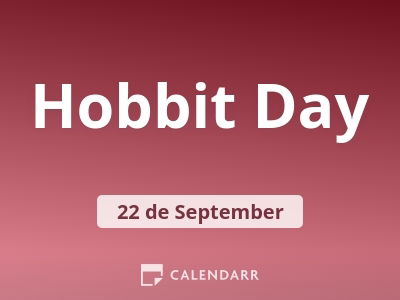 Hobbit Day - Next years
Thursday, 22 September 2022
Friday, 22 September 2023
Sunday, 22 September 2024
2021 Calendars