National Kindergarten Day
Next

National Kindergarten Day
Wednesday, 21 April 2021
National Kindergarten Day is observed on April 21, to celebrate the birthday of Friedrich Frobel, the founder of the first-ever kindergarten in 1837. Froebel believed that children needed a space to play in and explore their own interests and creativity, as well as learn social skills and independence before starting school. So today, we also celebrate Kindergartens as spaces where children can draw, sing, dance, make friends, and experience new things.
History of National Kindergarten Day
While we know that National Kindergarten Day was created to honor Friedrich Frobel on his birthday, it is unknown who or when this holiday was created.
However, the history of the kindergarten is very well documented. Frobel opened the first kindergarten in 1837 in the village of Bad Blankenburg in Germany. He believed that children needed an adequate educational base and a place to develop their social, creative, and academic skills to prepare them for the transition into school. Frobel's vision of early childhood education was that children are like plants, each needing their own individual care and nurturing, but together they made a beautiful garden. This is why, in 1840, he changed the name of his institute to Kindergarten - "kinder" means children and "garten" means garden, in German.
Frobel trained women to open kindergartens around the world, and in 1856 a woman named Margaretha Meyer-Schurz opened the first kindergarten in the United States, in Watertown, Wisconsin. The first English-speaking kindergarten in America was founded by Elizabeth Peabody in 1860. Currently, in the United States kindergartens are more commonly known as pre-schools.
Kindergarten is a crucial step in children's education, as it teaches them to be independent, develop their cognitive and emotional skills. Frobel wanted children to have a place, before enrolling in a school, where they could socialize, and have an opportunity for hands-on learning, where they could experience nature, science, geometry, arts, and others by themselves, at their own pace. This to ensure a smooth transition from the home to the school.
How to Celebrate National Kindergarten Day
There are different ways in which this day can be celebrated.
If you have children that attend kindergarten don't forget to thank their teacher today, and maybe leave them a card or a little gift to show your appreciation for the influence they have in your child's education and development. At the same time, you can give them an extra hand and volunteer to help out in some classroom activities.
Being a kindergarten teacher is a great way to ensure that you have an impact on the future of many children. If education is a field you are interested in, read into early childhood education and consider training to be a kindergarten teacher.
Already a teacher? Read about Friedrich Frobel's original goals with founding a kindergarten and try to incorporate them into your activities for the day. Maybe organize an after-school party for you and other kindergarten teachers, to decompress, share experiences, and congratulate yourselves on the great work you're doing!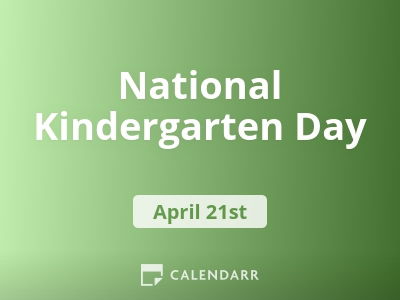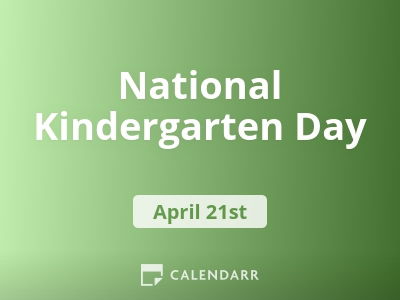 National Kindergarten Day - Next years
Thursday, 21 April 2022
Friday, 21 April 2023
Sunday, 21 April 2024
2021 Calendars