Constitution Day
Next

Constitution Day
Friday, 17 September 2021
Constitution Day, also called Citizenship Day, is observed on September 17 each year. It is a federal observance, but not a holiday. Businesses follow normal working hours. If Constitution Day falls on a Saturday or Sunday, schools, agencies, and other institutions observe it on the next weekday.
Why Is It Observed?
Constitution Day honors the day when the United States Constitution was signed by 39 delegates of the Constitutional Convention in Philadelphia, on September 17, 1787. The United States Constitution is the oldest in the world. It outlines the framework of the government. It protects the rights and freedoms of the people it serves and ensures that future generations will also benefit from this.
History of Constitution Day
In 1911, Iowa became the first state to recognize September 17 as an observance. It was celebrated in public schools. The hereditary society, The Sons of the Revolution, was impressed with the idea. They formed a committee to promote the celebration in 1917. By 1949, the governors of all 48 states had issued proclamations about the day.
Later, in Louisville, Ohio, one zealous citizen, Olga T Weber, petitioned for the day to be recognized in honor of the Constitution. The Mayor granted her desire, proclaiming September 17, 1952, the first Constitution Day for Louisville. Weber did not stop there and petitioned for it to be celebrated statewide, and then, nationwide. She succeeded, and in 1953, President Eisenhower signed it into law. In 1957, Louisville was named "Constitution Town".
Louise Leigh studied a course on the Constitution, gained a greater appreciation for it, and was motivated to do something to commemorate it. In 1997, she created Constitution Day, Inc., a non-profit organization. She received the backing of Senator Robert Byrd, who wanted all citizens to know more about the day and their rights, as "Our ideals of freedom, set forth and realized in our Constitution, are our greatest export to the world." Because of his lobbying, the "Constitution Day" amendment was added to the Omnibus Spending Bill and was signed by President Bush in December of 2004. September 17, 2005, was the first federally-recognized Constitution Day in the country.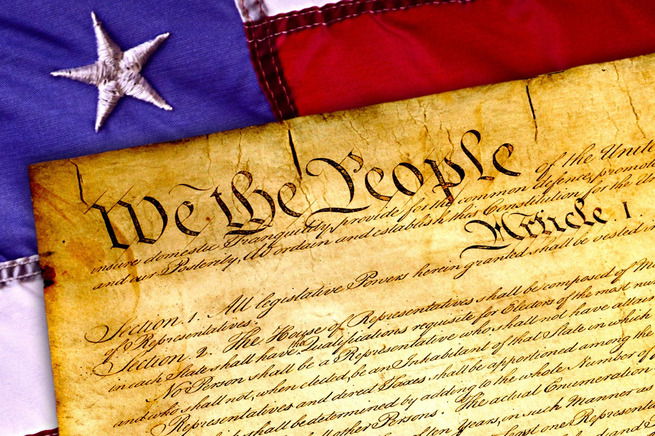 Linked with Citizenship Day
Citizenship Day "recognizes all who, by coming of age or by naturalization, have become citizens." Citizenship Day was formerly known as "I am an American Day". The suggestion is that the song "I am an American", written for the New York World's Fair in 1939, inspired a public relations firm head, Arthur Pine, to come up with a day to celebrate US citizenship. He promoted the song and the day via radio and a local newspaper. It was so successful that another newspaper advertised it nationwide. In 1940, Congress passed a resolution and President Roosevelt issued a proclamation that the third Sunday in May should be "I am an American Day".
On February 29, 1952, this decision was repealed, and September 17 was chosen to replace it to celebrate "the formation and signing, on September 17, 1787, of the Constitution of the United States".
How It Is Celebrated
September 17-23 is officially designated Constitution Week. It gives citizens the opportunity to learn about their rights and responsibilities.
Public schools that receive Federal funds are required by law to observe the day and provide educational programs for their students. This may include readings from the Constitution, discussions with judges and national heroes, and other projects.
Federal agencies have to provide educational materials for each employee.
Each year, the President may make a proclamation about the day and decree that flags are displayed on all federal and other buildings.
Towns and cities may hold schemes such as cleanliness drives, to encourage citizens to take more pride in their local area. There may also be festivals or other celebrations. Some citizens put up flags on their homes and in their cars.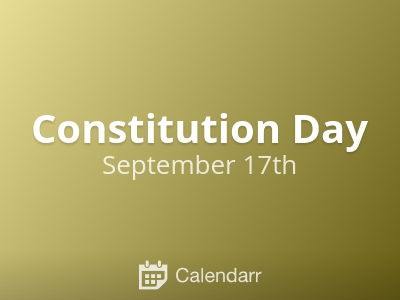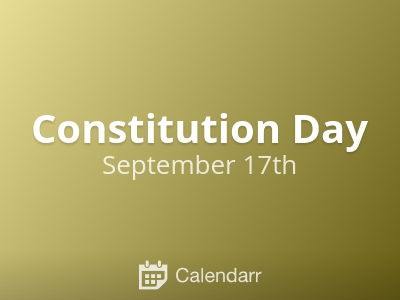 Constitution Day - Next years
Saturday, 17 September 2022
Sunday, 17 September 2023
Tuesday, 17 September 2024
2021 Calendars