National Avocado Day
Next

National Avocado Day
Saturday, 31 July 2021
July 31 is the day to celebrate one of America's favorite fruits, the Avocado. It's National Avocado Day! Avocados are versatile, tasty, and rich in vitamins that are great for you, so no wonder it deserves its own holiday.
Background
National Avocado Day is celebrated on July 31 as it marks the peak of the avocado season in California. This unofficial holiday was created by Model Meals, a company that endorses sustainable farming and healthy foods. The founders of the company wanted a day to honor the avocado, as they see it as an essential superfood in many people's lifestyles.
Avocados are considered a superfood because of all the health benefits that these small fruits carry inside them. They have healthy fats and Omega 3 that aid with insulin resistance and are beneficial in fighting Alzheimer's. They are also a great source of Vitamin E, C, and K, that prevent and repair damage. No wonder they are so popular, and have become a staple food in American households!
Avocados arrived in the United States by the hand of Henry Perrine, and horticulturist, who planted the first avocados in Florida in 1833. Their commercialization started in the 1950s when they became more widely available in supermarkets, and people would use them in salads. However, avocado consumption in America has skyrocketed since the 2000s, and they are now a common food in restaurants and households and are consumed in salads, dips, for breakfast, lunch or dinner, and there are many different ways of cooking them. Millions of avocados are bought every year in the United States!
What to do on National Avocado Day
Go all out for this holiday and have an avocado for every meal!
Start the day in a very healthy way by having some avocado on toast. It will energize you and get you ready for the day ahead. There are also infinite pairings to go with your toast: eggs, tomatoes, bacon, mushrooms, whatever your heart desires.
For lunch, have a hearty avocado salad. Avocado goes great in a green salad with chicken or turkey! As an alternative, you can have it in a sandwich.
At dinner, invite some friends over for movie night or to watch a game and serve them a great spread with the ultimate avocado product - a guacamole dip. Everyone loves guacamole and chips, and it is very easy to make!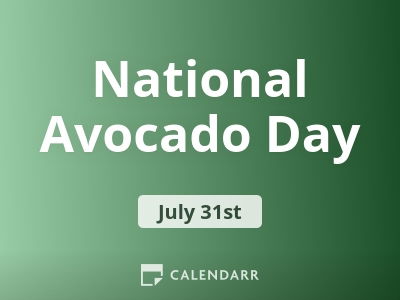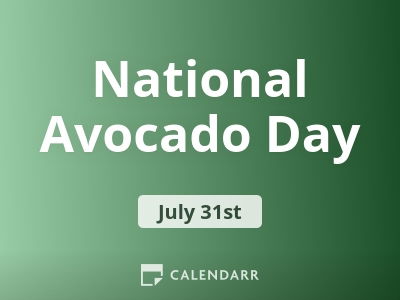 National Avocado Day - Next years
Sunday, 31 July 2022
Monday, 31 July 2023
Wednesday, 31 July 2024
2021 Calendars