National Entrepreneurs' Day
Next

National Entrepreneurs' Day
Tuesday, 16 November 2021
National Entrepreneurs' Day takes place on the third Tuesday of November, and it celebrates the people who represent one of the best things in America: entrepreneurship. America was built on entrepreneurs, who started from nothing and managed to build something amazing, by creating a product or a company that gives other people jobs and creates wealth. People with an entrepreneurial mind are usually ambitious dreamers, who see a need for something and create solutions to problems. All of the products that have become essential in our daily lives were once just a prototype in some budding entrepreneur's mind. This day celebrates those go-getters, and inspires people to be entrepreneurs themselves, and start their own businesses - especially those that are part of the next generation!
National Entrepreneurs' Day is not a public holiday in the United States.
Background
The idea of National Entrepreneurs' Day came to David Hauser and Siamak Taghaddos in 2010, two entrepreneurs themselves who founded Grasshopper. Hauser and Siamak did not understand why, in a country that values entrepreneurship as much as America, there still wasn't a day to celebrate those who build businesses from nothing. They started petitioning for signatures to present a proposal for this National holiday with the government and six months later, on November 15, 2010, President Barack Obama issued a proclamation declaring the last day of National Entrepreneurship Week as National Entrepreneurs' Day.
President Obama's wish with proclaiming National Entrepreneurs' Day a national observance was to boost small businesses and encourage their growth, and to have the government put policies in place that benefit start-up businesses as a way to create more jobs in America, thus ensuring economic growth.
In 2012, November was declared National Entrepreneurship Month.
The word Entrepreneur comes from the French "entreprendre" which means "to undertake". An Entrepreneur is someone who envisions, creates and runs a new business, thus creating opportunities for others. Some famous entrepreneurs include Bill Gates, Steve Jobs, Oprah Winfrey, and the judges of the TV Show Shark Tank, which supports Americans with small businesses by giving them financial help.
How to observe National Entrepreneurs' Day
During National Entrepreneurship Week and National Entrepreneurs' Day there are several events and talks by successful entrepreneurs, with the aim of educating people about business and starting their own company, as well as offer advice, inspiration, and mentorship. If you have an idea to start a new business, this is the perfect opportunity to learn about the foundations of entrepreneurship and talk to someone who understands the business to get some guidance.
If you are an entrepreneur or small business owner, consider mentoring young people about the ins and outs of starting a business. You might inspire the next big American entrepreneur.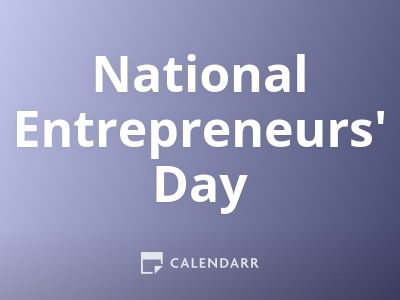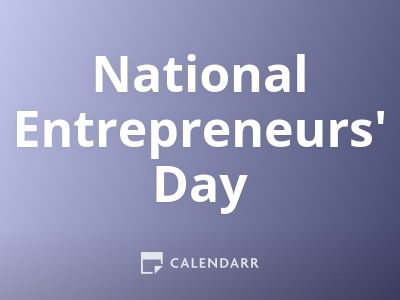 National Entrepreneurs' Day - Next years
Tuesday, 15 November 2022
Tuesday, 21 November 2023
Tuesday, 19 November 2024
2021 Calendars