International Day of Happiness
Next

International Day of Happiness
Sunday, 20 March 2022
The International Day of Happiness is celebrated around the world every year on March 20. Its purpose is to bring focus to what the United Nations consider to be the ultimate goals of humankind, which are happiness, freedom and wellbeing, and these should be the purpose of every nation. It is only an observance in the United States, and as such businesses and schools remain open.
History of International Day of Happiness
In 2011, Jayme Illien, the CEO of Illien Global Public Benefit Corporation began a year-long, million-dollar campaign aimed at the United States Secretary-General Ban Ki-Moon, with the purpose of creating a global day to celebrate the importance of happiness for people around the world.
Illien had previously initiated a UN project intending to have a worldwide day to spread awareness of the fact that happiness is a human right, in 2008.
On June 28, 2012, resolution 66/281, authored by Illien, was accepted and adopted by all United Nations member states, officially instating International Day of Happiness as a day to be observed by countries around the world.
The first International Day of Happiness was celebrated on March 20, 2013.
Who was Jayme Illien?
Illien was an orphan who was rescued by a charity as a child and sent to live in the United States. As an adult, he dedicated his life to helping and rescuing abandoned children, which gave him a strong awareness of the many issues that humans still faced. He realized that human happiness was not only a right for all but should be the ultimate objective that humankind should pursue, in order to make a better world. Thus, he set out to create a day that would bring awareness to his goal.
Why do we celebrate International Day of Happiness?
The purpose of the United Nations when creating this day was to recognize happiness as an essential part not just of people's wellbeing, but also of countries' public policy. They believe that happiness is the key to an inclusive approach to the nations' development and economic growth.
This way of thinking was inspired by the country of Bhutan, who is said to have the happiest citizens in the world. Bhutan measures their national prosperity not by using the Gross National Product index, but rather the Gross National Happiness index, as they believe that their country can only prosper if its citizens are happy with their lives and accomplishments.
This is then a day where countries and their people can participate in understanding how their happiness impacts their global impression, by linking their economic development with social and environmental wellbeing.
In 2009, the United States, inspired by Bhutan's GNH, adopted the Gallup Well Being index to conduct a happiness survey with their citizens, where they evaluated people's happiness and quality of life by asking questions that focus on work environment, physical and mental health, healthy behaviors and access to basic necessities.
How International Day of Happiness is celebrated
Every year, the institution Action for Happiness coordinates events for International Day of Happiness around the world. There is also a yearly theme for the day, for example, in 2019 the theme was Happier Together.
People are encouraged to celebrate this day by reflecting on what makes them happy, and how they can change the world through this.
Others choose to celebrate by bringing happiness to others, by donating to charity or volunteering.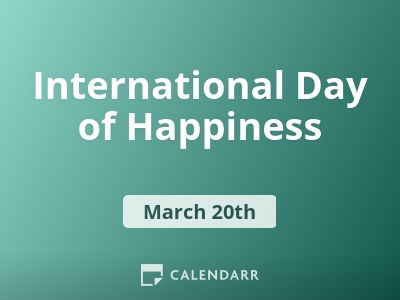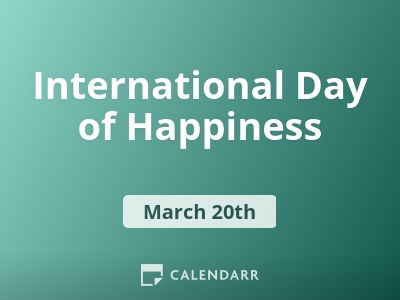 International Day of Happiness - Next years
Monday, 20 March 2023
Wednesday, 20 March 2024
Thursday, 20 March 2025
2021 Calendars