Opening Day
Opening Day marks the beginning of the season for Major League Baseball, one of the most important days of the year for all fans of the sport that is known as America's National Pastime. The season opener usually takes place on the first week of April, but it has sometimes fallen in the last week of March. In 2020, because of COVID-19, Opening Day had to be postponed to July 23 and 24.
In 2021 Opening Day is on April 1st.
Opening Day is a major event for baseball fans because it signifies new beginnings, with all teams starting the season with a clean slate.
History of Opening Day
It was on April 22, 1876, that the Cincinnati Reds (the first American all-professional baseball team) threw the first-ever pitch of Major League Baseball, earning them the honor and privilege of "opening the Openers", and hosting Opening Day. An honor which they carried out from 1876 until 1989. Opening Day is an occasion of great pageantry in Cincinnati, where it is recognized as a city holiday, and fans of all ages attend the Findlay Market Parade to show their support for the Reds.
Opening Day has also historically presented an opportunity for United States Presidents to show what they are made of. William Howard Taft was the first President to throw the ceremonial first pitch, on April 14, 1910, and since then, 11 Presidents have followed suit.
The season opener of Major League Baseball is also a matter of pride and display of one of the most important parts of American culture. A truly national event, thousands of baseball fans see Opening Day as an unofficial holiday, with many taking the day off work or school to watch their team's home opener, which usually happens in the afternoon.
Traditionally, Opening Day should happen on a Monday. However, in some seasons, it has been scheduled on a Thursday or Friday to avoid the World Series extending into November. In 2018, Opening Day took place on March 29, making it the earliest start for all United States' teams in MLB history.
Most baseball fans begin anxiously counting down the days until the next Opening Day once the World Series is over.
How to Celebrate Opening Day
Celebrate Opening Day by joining in on the enthusiasm with millions of other baseball fans.
If you can, go experience the full enthusiasm and adrenaline of opening day by watching the game live at the ballpark. There is nothing like being in the middle of the action, together with thousands of people who are there to enjoy the beauty of America's favorite pastime!
Can't go to a stadium? There is sure to be a sports bar near you broadcasting the game on opening day. You can still enjoy the camaraderie with other baseball fans, and as a bonus, you get to eat some delicious chicken wings or onion rings while supporting your favorite team. If sports bars aren't your thing, invite family and friends over to your house to watch the game and have a barbecue.
Whatever you do, Major League Baseball encourages all baseball fans to wear their team's hat on Opening Day and show their support.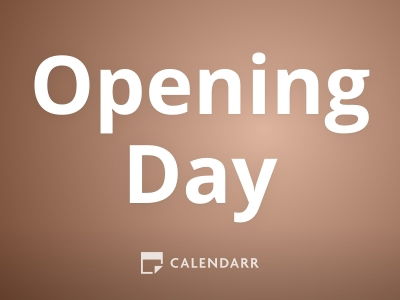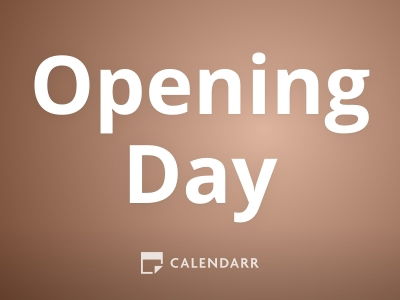 2021 Calendars